Alien Moon Partnership
Joined

Location

Jamaica Plain, MA
Profile Images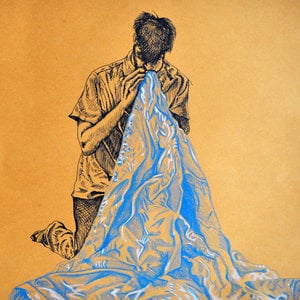 User Bio
It was in failure that I first learned how to fly
or I learned to fly in the water and swim in the sky or I failed to fly in the sky, so instead I plummeted into plastic cerulean ocean vomit: inflating or drowning so that I could swim. My wings drifted away from my skin. In and out with the tides, pulled by the moon's orbit, that fleeting crescent orb. My wings have turned into puddles of wax and string escaping my reach.
This is soaring. Just floating in a space. An existential isolation in a three-ringed pool (held up by my hot breath), or was it the ocean? A stream, no it was a tiny bath. We are at my baptism. I am being washed… of what? Was I wrong for feeling dirty? For being a bit worn in and beat up? For embracing time and experience?
Maybe it's better just to drift. To hop on a jenky wooden raft. Float downstream. Pour water on the ground to form a river body, and just drift. Drift in and out of consciousness. Waking life vs dream reality vs subjective reality vs collective reality vs fictional reality, as it exists in memory: ephemeral, out of focus, out of reach, bleeding together, misconstrued. I attempt to hold on to these precious stolen moments. But they are precious because they exist just once. As we exist just once. Memory in all its fleeting glory, A memory occurs, and any attempt to remember shatters and replaces it with mythologies. It was in failure that I first learned how to remember.
I thought this could bring us closer. If I just drifted into your path. All paths are destined to eventually intersect. Then maybe we could talk, lay here a while, get a bite to eat, get the hell out of here… bleed into one another's stories. But it was in failure I learned how to communicate. How to build walls and tear down bridges. Or was it the other way around?
I sat here, here in this very spot. This chunk of sand. I sat on this island and watched night turn to morning. The sky opened straddling with blinding rays of lightness, offspring of the very sun that caused my wings to convulse and constrict. To twist, collapse, and melt. Or was that gravity? The sky opened and I dived in, gravity riding my flight into water. It was in failure that I first learned how to swim. How to glide in that cloudy river. That muddy river. But really, the whole time I was just falling. It was in failure I learned how to fall. To float and just be present. I try to be present.
There's something quite queer and graceful in the way the body falls. Plummeting in to infinite black holes. I fell to the ground. It was in failure that I learned how to drown and sink into the dirt. I loved the dirt and sank my body underneath. Digging for some lost secret I once hid, but can't quite remember.
I am Grounded.
Walking on this dirt, pretending I can fly
Laying on this rock, pretending I can walk
Walking in this dust, pretending I can see
Gazing at this water, pretending it is clean, and that the reflection I see is me
Related RSS Feeds