Argyris Theos
Joined

Location

Athens Greece
Profile Images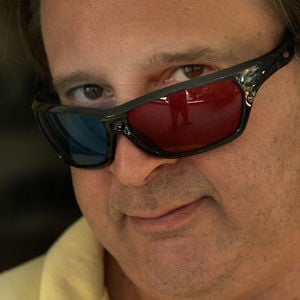 User Bio
Argyris Theos, GSC
Director / Director of Photography
Curriculum Vitae (short)
It is my true belief that movies are about to change. Not only stereo 3D is here to stay but other modern forms of expression are to appear very soon.
Born in Athens, 1963
Studies: 1980-84 University of Athens, Economist
1983-86 Staurakos School, Cinematographer
1985 seminar L'una citta in cinema, L'Acquila Italy
2011 S3D Campus, Paris France (under scholarship from Media 2011)
Languages: speaks and writes fluently in English, French and Greek
1985-1990 Assistant Cameraman
Argyris is a member of the Greek Society of Cinematographers.
Argyris is an active member of the cinematography mailing list, and a member of the cml grand jury.
In the past he has been an affiliate of Eastman Kodak Co, commenting on stocks that were about to be released (aka beta tester)
He is also a Sony Independent Certified Expert (ICE) on camcorders.
He became interested in stereography back in 2006 (pre-Avatar times). He owns his own mirror rig, a 3Dfilmfactory Indie.
As per April 2011, he accepted a yearly contract as DoP to the Greek National Television (ERT SA)
Director & Stereographer: During July 2010, Argyris both directed and Stereographed a short movie named "citrulus lanatus".
Director of Photography
Prize: 2005 cinematography for "Children of Niovi" (Greek tv awards)
Theatrical features:
2010 "the traveler", dir. Y. Kalogeropoulos (currently in post production)
2004 «Breakfast in New York», shot the opening scene in Athens σκην. Louise Lamarre
2003-4 «unforgettable homeland», dir. K. Koutsomytis
2003 «When we will dance together» dir. Adrianos Georgantas
2001 «Efapax» dir. Nikos Zapatinas
1998 «dancing soul» dir Loukia Rikaki
1997 «rusty pictures» dir. Yannis Katsamboulas, best documentary prize, Thessaloniki film festival, 1997
1997 «the boys - τ'αγόρια» dir. Katerina Philippou (addl. Photography)
1995 «like a prairie cock in Wyoming» dir. Dimitri Indares, best film prize and another three prizes, Thessaloniki film festival 1995
Television Series and other work
2012: "es avrion ta spoudaia/dimitris karatzas
2009-10 «star war» (ΑΝΤ1) 10 episodes
2008-9 «Kiss your Frog» season 2 (ΑΝΤ1) 28 episodes
2007-8 «Kiss your Frog» (ΑΝΤ1) 30 episodes
2006-7 «only you», (ΝΕΤ) 20 episodes
2005-6 «earth and sky», (MEGA) 30 episodes
2005 «hiding» tv feature (ANT1)
2004-5 «san glyko tou koutaliou», (ANT1) 17 episodes
2003-4 «children of Niovi», (ΕΤ1) 12 of 16 episodes, prized for cinematography and 6 other prizes
2002 «Late» (Alter) 10 episodes
2000-01 «Out of Course» (ΕΤ1) 21 episodes
2000 «guilty or not» (ΑΝΤ1) 22 episodes
1999 «Judas's kiss» (ALPHA) 15 episodes
1998-99 «touch of soul» (ANT1) 31 episodes
1997-98 «Heart whispers» (MEGA) 33 episodes
1996-97 «Tide» (MEGA) 19 episodes
1995-96 «Town Streets» (ANT1) 3 episodes
1994-95 «Scorpion» (MEGA) 8 episodes
1994 «Anatomy of a crime» (ANT1) 2 episodes
1993 «Comics» (SKAI) 30 episodes
1992 «Pythagoras' Way», tv feature
1990 «Persisting Ideas» (ET1) (additional Photography)
1989 «into the sound» (ET2) documentary
1988 «Easter in Kalymnos» (ET2) documentary
light shows:
Argyris knows how to deal with light shows and has indeed designed lighting for award ceremonies and other events and occasions requiring a DoP who understands LD. Latest big job was the opening ceremony of the new Olympic Air airline, a 4 hour show attended by 7000 people.
Commercials:
Argyris has shot various commercials throughout his career.
Short films:
Argyris shoots shorts when he has the chance. He likes interacting with young directors. A few of these have been awarded prizes.
other: Argyris has on occasion designed and supervised architectural lighting installations.
Stage Lighting:
Starting 1984 till today Argyris has designed lighting for 45 stage performances, either theatrical stage plays or dance performances.
Argyris Theos
Director of Photography
30, K. Palama st.
N. Psychiko 154 51
Greece
+30 6944 725 315
theos@argie.gr
Skype: Argyris.Theos
argie.gr
Related RSS Feeds