Amico/Kelly Art Of The Groove
Joined

Location

New York
Profile Images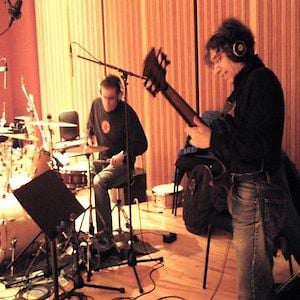 User Bio
Art Of The Groove Master Class
Art Of The Groove Master Class focuses on musical organization and interaction in the rhythm section, specifically between the bass and drums but including the roles of other instruments as well. Many clinics deal with particular styles of music or focus on advanced techniques, frequently beyond the abilities of their audience.
We concentrate on examining and understanding the basic nature of a good rhythm section team. This is done through individual clinics for bassists and drummers followed by a joint session where we examine techniques and signature components of popular music of the last century. Rather than focusing on one style of music, we show how all music has rhythmic form and function unique to the style. By examining popular styles for their signature grooves, we explore through demonstration and discussion what makes Jazz, Blues, Rock, Latin, Funk, and the influence of New Orleans definable and unique genres, with the focus on what musicians need to function effectively as a rhythm unit playing the different styles.
Experienced players as well as beginners come away with new ideas and methods for better rhythmic interaction in the music they are currently playing, and for creating interesting musical grooves in a variety of music styles. Question and answer sessions are a large part of the Master Class and we bring our professional insights to the topic from diverse musical situations. Players learn how to improve their own rhythm section playing as well as how to better interface with other rhythm section members. Participants have greatly appreciated the down-to-earth approach that appeals and informs across all ages and experience levels.
The modular clinic consists of the two principal instructors, Gary Kelly and Vinnie Amico, and may be augmented with one or two other clinicians — guitar, keyboards, saxophone, trumpet or violin. All clinicians are working professionals with many years of experience performing and recording in established musical situations. Each clinic is followed by an evening concert demonstrating how the concepts and techniques covered during the clinic fit together and are utilized to produce music that is current and communicates rhythmically with the audience. Private lessons may also be scheduled when time permits.
Art Of the Groove presents the basic building blocks of rhythm and how to use them to produce infectious signature grooves in all popular styles of music. Many clinics talk about individual instruments, but we strive to focus on the interaction between musicians that makes great grooves come alive. We cover the components of individual styles as well as the concepts of playing time in a group; playing on the beat (or behind, or in front of) to achieve variations in feel. Whether live or in the studio, these methods are the groundwork that comes from years of eclectic musical experience that Gary, Vinnie and the other players bring to these events.
Related RSS Feeds