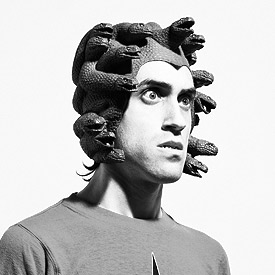 Beardyman has always pushed beatboxing beyond its limits. His refusal to be put in a box has led him to perform all over the world, including touring with Groove Armada and hosting huge festival main stages. He won the UK Beatbox Competition twice, took home top MC honors at Breakspoll, and played a sold-out run of solo comedy shows at the Edinburgh Fringe.
Frustrated with the restrictions of the human mouth, but still obsessed with its unparalleled capabilities, Beardyman has become a leading figure in the emerging trend of live-looping. He uses an ever-growing arsenal of sound-manipulation technology to take audiences on musical journeys, darting from ad-hoc rave-ups to comedic musings to reinterpretations of classic tunes from a wide array of genres.
In addition, Beardyman has used his unique perspective on sound to create a series of wildly popular videos. His videos range from absurd parodies to improvised performances, and have been viewed tens of millions of times.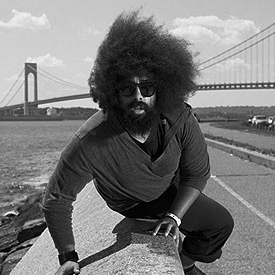 Hilarious, brilliant, unpredictable — comedian/musician Reggie Watts is a staple of the international performance scene. Reggie's improvised musical sets are created on the spot using only his formidable voice and a looping machine. An avowed "disinformationist," Reggie loves to disorientate his audiences in the most entertaining way. You may not know what Reggie is going to do, but that's okay — he doesn't either.
As a solo performer, Reggie was hand-picked by Conan O'Brien to open Conan's entire North American "Prohibted From Being Funny on Television" tour. Reggie was featured as "Hot Comedian" in Rolling Stone's Hot Issue 2010, named SPIN Magazine's "Best New Comedian" and "Best of CMJ" in 2010, and featured in GQ's Man Of The Year 2010 issue. Reggie released his debut comedy CD/DVD Why $#!+ So Crazy? on Comedy Central Records in May 2010.
He has played sold-out solo runs at Fusebox, SXSW, Bonnaroo, Soho Theatre (London), Brian Eno's Luminous Festival at the Sydney Opera House, Montreal Comedy Festival, PopTech!, Vancouver Comedy Festival, Bumbershoot, Sydney Festival, Outside Lands Festival, and in cities throughout the world, including Amsterdam, Paris, Cologne, Madrid, Stockholm, Copenhagen, Melbourne, Cape Town, and Reykjavik, among others.