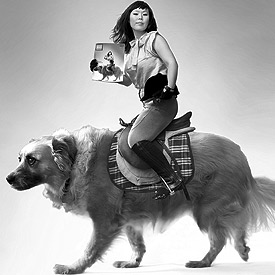 Lana Kim
Lana Kim served as the Executive Producer of Music Videos at the Directors Bureau for the last seven years, where she produced work for such directors as Patrick Daughters, Roman Coppola, Shynola, Andy Bruntel, Mike Mills, and Nash Edgerton.
She recently launched Hundreds + Thousands, which is a means for her to not only continue her passion for music videos but to explore and cultivate creative work that lies beyond. Her roster has expanded to include Andreas Nilsson, Dougal Wilson, Adam Hashemi, Saam Farahmand, Nez, The Vikings, and One in Three of the remarkable company FURLINED.
Lana is also a co-founder of Ways & Means, a collective that cultivates and fosters young talent and produces projects for clients such as Dior, Levi's, Sony, and institutions such as the Museum of Contemporary Art in Los Angeles.
She continues to host the online music video show the Lana Show, and is a self-proclaimed vegan baker, friend to all animals, juicer, artist, and musicians.