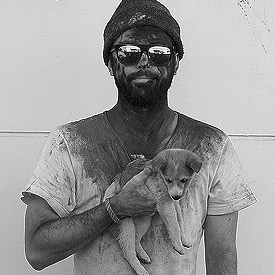 Andy Bruntel
Andrew was born in a rural town in Pennsylvania where pastoral fields met the wild landscapes of Appalachia and suburban homogeny. Growing up in the crossroads of these mixed environments gave him an appreciation for nature and a unique perspective that shaped the core of his aesthetic sensibilities.
He later studied in Baltimore, where he experimented in combining his passion for narrative fiction with parallel pursuits in the visual arts, new media and semiotics.
After graduation, he moved to Los Angeles where he worked with directors Mike Mills and Roman Coppola on numerous film, video animation and art projects. In 2006, Andrew branched out into directing his own work and has proven himself a creative and resourceful director with a singular voice.
He has since collaborated with a growing list of artists and musicians including Will Oldham, Stephen Malkmus, Modest Mouse, St. Vincent, No Age and Liars. Boards Magazine and New York Magazines have praised Andrew as a Director to Watch. His work has reached an international audience, screening at prominent film festivals around the globe and receiving accolades from MTV, the MVPA, D & AD Awards and the Plug Independent Music Awards. Most recently Vimeo awarded him the Best Music Video Award for Liars "Scissor".