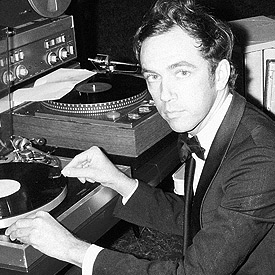 David Dewaele
For those of you who don't know anything about Soulwax or 2manydjs… Their musical history is checkered with highlights. The sons of a noted Belgian radio DJ, the pair formed a rock band named Soulwax, who released several acclaimed records and toured extensively. At this time the brothers were also concurrently DJing under the names The Flying Dewaele Brothers & 2manyDJs to rapturous response both in clubs, on Belgian radio and beyond. In 2002 their massively acclaimed debut mix album 2manyDJs — As heard on Radio Soulwax Volume 2 was released on an unsuspecting world. It changed the face of dance mix compilations forever simply by splicing hundreds of rock, electro, dance, hip hop and other classics from the depths of their vaults together. It was also fun!!! And somehow they had managed to do what so many had failed to do previously — bring that fun and chaos from the club into your home.
500,000 + sales & 8 years later it remains a must have for house parties, holidays and individual experiences the world over. Their sound and style has been mimicked and imitated a million times (but never bettered) and not to mention pretty much every mix they have ever done has been bootlegged and sold at extortionate prices on by opportunists in every corners of the earth. Radio Soulwax sees them taking the concept of the mix album and re-inventing it yet again.
They've also since become two of the busiest, most in demand DJs/ Remixers/ Musicians /Producers in the world with far too many credits to list here. They have also toured consistently, both as a live electronic rock band and as 2manyDJs (and often both at the same time), headlining tour after tour, festival after festival, year in year out throughout the world. The past few years have seen them perform in front of millions of people across the globe and their schedule shows no signs of letting up. In 2007 they created their much loved Soulwaxmas event which now takes place annually in the UK, France, Belgium, Germany, Italy & Spain in the run up to Christmas, and which this year saw them perform to 15,000 rabid fans in London alone.