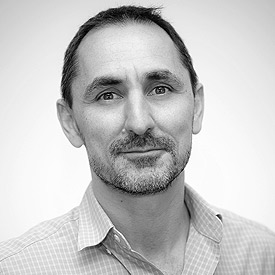 David Droga
Growing up in an Australian resort town, David couldn't imagine anything better than touring the world as a ski instructor. Ironically, it was his imagination that took him abroad, not his limited skiing ability.
David launched his career by winning the top Student Honors at the Australian Writers & Art Directors School. At 22, he became a partner and Executive Creative Director of OMON Sydney. Over the next five years, OMON won "Australian Agency of the Year" twice and "Ad of the Year" four times.
In 1996, David moved to Singapore to become Executive Creative Director of Saatchi & Saatchi, Singapore and Regional Creative Director of Saatchi Asia. By 1998, Saatchi was the region's most successful network, and Saatchi & Saatchi, Singapore was at the epicenter of this transformation. Media Marketing named Saatchi "Regional Network of the Year" and Advertising Age named the Singapore office "International Agency of the Year." At 29, David was promoted to Executive Creative Director of Saatchi & Saatchi, London.
In 2003, another challenge came knocking and David packed his bags again. This time he headed to New York City as the first-ever Worldwide Chief Creative Officer of the Publicis Network. In less than two years, Publicis enjoyed a very public creative and new business renaissance around the world. However, tired of growing other people's companies, David decided to start his own agency. In 2006 Droga5 was launched in New York City.
Along the way, David has also received countless personal accolades. To date, he is the single-most awarded creative at the Cannes International Advertising Festival, with over 70 Cannes Lions, including 6 Grand Prix and 4 Titanium lions. He has been inducted into the American Advertising Federation Hall of Achievement and was the first recipient of the Boards magazine "Lifetime Achievement Award." While in London, he was nominated Best Creative Director in the UK's "Best of the Best Awards" and named "World's Best Creative Director" by Advertising Age. From his time in Asia, David is included in Media Marketing's "Hall of Fame" and was honored with a "Lifetime Achievement Award" by Campaign Brief Asia. In Australia, Creative magazine has named him "Australian Creative Person of the Decade." He has also been included 3 times in Esquire Magazine's annual 'Best and Brightest" issue.
Beyond his family and building a new venture, David's favorite topics are art, the environment and anything Australian.