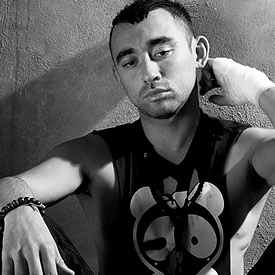 Nicola Formichetti
Nicola Formichetti is the creative force behind some of the world's most influential brands, publications, and individuals.
Born in Japan in 1977 to an Italian father and a Japanese mother, his unique style is a result of his upbringing: internationally eclectic; modern and traditional; Eastern and European.
In the past, Nicola has worked as a contributing fashion editor for several fashion magazines such as V Magazine, V Man, Dazed & Confused, Another, and Another Man — all of which he was closely involved with throughout the creative and production process. When not busy actualizing stories for these publications, he spent time as a consultant for a number of leading fashion brands including: Alexander McQueen, Y-3, Giorgio Armani, Prada, D&G, Missoni, CoSTUME NATIONAL, Topman, H&M, Adidas, Nike, Puma, Levis, and MAC; working on their image, business strategy, marketing processes, and campaign styling.
While Nicola is still involved as a contributing editor of many publications, his most current notable contribution in the world of editorial is that of Fashion Director of Vogue Hommes Japan, where he oversees everything from production to styling — including the magazine's first iPad application.
As the Fashion Director to Lady Gaga, Nicola has collaborated with her on some of the most memorable imagery, performances, and moments in recent pop culture history. As the nucleus of Haus of Gaga he is at the helm of red carpet creations, album covers, videos, and tours.
For the Fall/Winter 2011 season, Nicola debuted his first mens and womenswear collections as the Creative Director of the iconic French fashion house, Mugler — where he also showcased his first fashion film for the atelier.
Nicola also serves as both Stylist and Creative Director to the uber-cool Japanese mega brand, Uniqlo.
Amongst his many accomplishments, in December 2010, Nicola was awarded the Isabella Blow Award for Fashion Creator by the British Fashion Council.
Nicola is currently living between New York and Tokyo.