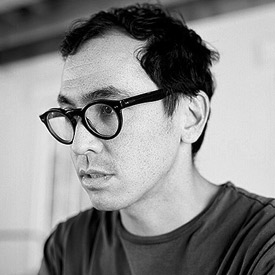 Geoff McFetridge
McFetridge is a artist based in Los Angeles California. Born in Canada, he was schooled at the Alberta College of Art and the Graduate Design Program at the California Institute of the Arts.
Known in the world of graphic design for his reductive graphic style, he began to show his work in galleries in 1998. His first large scale show was in Japan at Parco Gallery Tokyo. He was part of the Beautiful Losers Exhibition which toured the world, and has made solo exhibitions in Los Angeles, New York, Berlin, Paris, London, Seattle, Milan and the Netherlands.
His work is in the collection of the SF Museum of Modern Art, Exhibited in the Cooper Hewitt National Design Biennial, and the California Design Biennial. His animations have screened at Cannes, Resfest, Fotokino and South By Southwest.
In 2006 he launched a wallpaper and fabric company called Pottok Prints.
McFetridge continues to work as a commercial designer, recently creating the graphics for the film "Where the Wild Things Are" and designing wallpaper, carpet and blankets for the Standard Hotel NY. As an artist he has most recently had solo shows at V1 Gallery, Copenhagen and Half Gallery, NYC and created a large installations as part of "Art in the Streets" at the Museum of Contemporary Art Los Angeles, and for "Graphic Design Worlds" at the Trienalle Design Museum in Milan Italy.