Ben Sollee
Joined

Location

Lexington, KY
Profile Images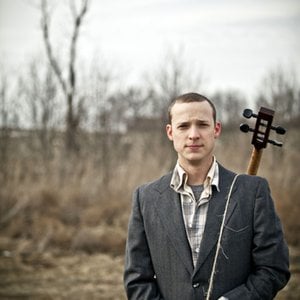 User Bio
Ben Sollee wants you to experience all the beauty and banality that life has to offer. It's a serious request, and his enthusiasm is genuine. Armed with a cello, Sollee is canvassing the country, sometimes by bicycle, imploring folks to rediscover the connections between music, art, film, dance, their community, and personal relationships.
These factors ultimately translate to the mindset and making of Ben's new project – Inclusions. Beyond bridging genres and demographics with earnest, dynamic songwriting and passionate performances, Ben Sollee seeks to intertwine his music with art and life. The theme of Inclusions is large, humanistic and universal – how relationships influence us all whether intentional or not.
The classically trained pop cellist recognized his community and relationships in every facet of Inclusions. Collaborating with local visual artist Phillip March Jones, the album art for Inclusions brings a visual reference to the allegory of the album. Ben's newfound rhythmic intensity comes courtesy of a compositional backbone provided by his old friend and tour confidant, Jordon Ellis. Listeners are also treated to the voice of Cheyenne Marie Mize, who threads soaring harmonies throughout, as well as songwriting for "I Need."
"I love this record," Ben admits. "I love it for all of its meanings, explicit and incidental. I love the people I got to work with and the sound they helped create. I love how challenging it was to excavate some of the musical ideas and how others washed up in conversation. In these songs, I can hear the city I grew up in and the people that lived down the street."
Ben Sollee first emerged with his inviting 2008-debut Learning to Bend. Saturated with sweeping moods and visceral maturity, Learning to Bend showcased a wild mixture of musical approaches that Ben describes as "classically influenced folk with leanings of R&B and soul." The album caught the ear of NPR's Morning Edition, which heralded Sollee as one of the "Top Ten Great Unknown Artists of 2007."
While people were getting their first listen of Learning to Bend, Ben was out touring with banjo player and songstress Abigail Washburn as part of the Sparrow Quartet. The ensemble, also featuring Grammy-nominated fiddler Casey Driessen and multi-Grammy winning banjoist Bela Fleck, explored the congregation of eastern and western folk music. The critically acclaimed ensemble toured throughout the world, including a US Ambassadorial tour of Tibet.
In 2010, Ben collaborated with fellow Kentuckians Daniel Martin Moore and My Morning Jacket front-man Yim Yames on the Sub Pop released Dear Companion. The album explored Ben's desire to use musical encounters as a catalyst to inspire environmental stewardship.
Additionally, Ben works with regional non-profits like Appalachian Voices and Kentuckians for the Commonwealth to help preserve a cornerstone and major influence of his songwriting – his ancestral Appalachia. This past summer, Ben teamed with his Dear Companion collaborators for the Appalachian Voices tour – an eight-date tour to raise awareness about the destruction caused by mountain top removal coal mining in central Appalachia.
"I never expect to see that cello in one piece after Ben gets done playing it," says Yim Yames. "He bows and beats and works it over with a passionate fury rarely seen. Don't get me wrong – he can play it and hold his own with the most schooled and delicate scholars out there, but more importantly, Ben makes it live." He continues, "Ben's songs speak worldly wisdom and stand on their own, and he is out there in this world with those songs and that cello and that god-given voice of his, riding his bike and fighting the good fight and doing all he can to help make the world right."
Later in 2010, Ben embarked on the "Ditch The Van Tour." Ben and his band abandoned the comforts of a motorized vehicle and hauled their gear and instruments (yep, the cello too) across the country on bicycles. Ben's mission was to engage a greater sense of community involvement at every performance. By huffing it on two-wheels between cities, instead of driving or flying, Ben and his crew were able to discover people and facets of our country in ways that traditional touring could not allow. "It's not about being green or even sustainable… we want to exploit the limitations of the bicycle to slow down and experience the rich communities and people that I've spent years flying-by and driving past."
Ben Sollee is not satisfied with just being a musician. It is absolutely paramount to him to incorporate collaborations, regardless of age or credentials, in his personal and professional life. "I'm such a mutt myself, biologically and socially, that it just makes sense to express that as my pedigree. In the end, that's what folk music is all about; each of us telling our own story."
Related RSS Feeds