Brandon Hinsley
Joined

Location

Omaha, NE
Profile Images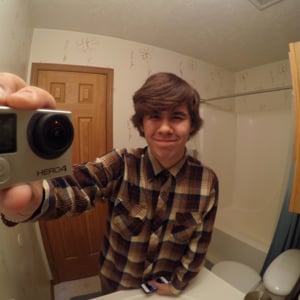 User Bio
It was the summer of 2009 when my best friend, Jeff, and I set out to be the Joel and Ethan Coen of the future. My father introduced me to the world of online video streaming when he would show me old clips from WWF wrestling on YouTube. That is when I saw a greater potential to these websites. Obviously, plenty of other people beat me to it considering my short films average around 85 views per video, although, the very slow increase of my online popularity and recognition does not deter me from the art of film. Over the past five years I've spent thousands of dollars, earned from walking through miles of cornfields during summer break, on camera gear including my first digital SLR, the Canon 60d. I believe that I was born in the perfect generation for a budding filmmaker simply because of the tools that are easily accessible to me such as YouTube and the modern digital camera. It is now easier than ever to make your own movie and I get my practice in every day. Working the insides of adobe premiere, my camera, and its lenses is what I do best.
It all began in fifth grade with our minute and a half long, unscripted videos filmed with our Sony point and shoot camera and a few Nerf guns for props. After three years and countless hours of self-educating through YouTube and how-to guides I finally had the basics of film making down. Finally, Christmas time came around and this was the Christmas that I received my Canon 60d, the Christmas of freshman year. I put in $500 of my own money made by detasseling the summer before and the rest of it was a gift from Santa. Shooting on manual until I mastered the operation of aperture, shutter speed, and ISO was one of the best choices I've ever made. Learning to shoot at 24fps with my shutter speed at 1/50 helped me break away from the home video look and see a cinematic world in my finished projects. I was noticed by my school's yearbook teacher and have impressed him ever since. This year is my junior year of High School and I finally found something school related that makes me happy and keeps me busy. That is yearbook class. In yearbook I shoot videos including the varsity football team's season wrap-up/highlight reel that will play at their banquet in December.
On November 4th, the fifteen best of the ninety kids on yearbook staff went to Washington, D.C. for the annual Journalism Education Association convention and contests. I entered the national contest in the category of videography. I arrived in D.C. not knowing how my contest was going to work and when I got to the briefing room I was in for a surprise. We had two hours to create a short film that was between 1 ½ to 3 minutes long, at the Smithsonian Zoo. No editing was allowed and we had to use all of our own camera gear. I won first place with the superior rating in the national contest. There were 2,168 teens in contests and only 122 received superior awards. I was the superior winner in the category of videography. Turning words into a moving picture with the challenging, yet fun skills that I spent years practicing to get to where I am now is what makes me proud of myself and what keeps the others around me proud as well.
Related RSS Feeds
Brandon Hinsley does not have any videos yet.