Bryan Lowry
Plus
Joined

Location

Kailua Kona, Hawaii
Profile Images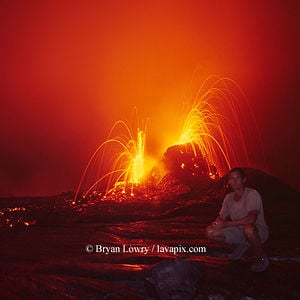 User Bio
Big Island of Hawaii professional photographer. Kilauea volcano expert since 1991.
Professional guide for film productions. Visit my Services page for more information.
lavapix.com/page/services/
High quality fine art prints available on metallic paper and aluminum. Both are outstanding. The paper needs framing while the aluminum doesn't. Aluminum information lavapix.com/page/metal-prints/
Visit the volcano gallery here.
lavapix.com/gallery/volcano/
Images on aluminum also available in the shape of the Big Island of Hawaii. See them here.
lavapix.com/gallery/big-island-shaped-prints/
I'm finally starting to process my many GB's of video and time lapse footage.
More will be added as its edited.
More detailed ones that allow you to be apart of my adventures at the lava flows and other areas of the Big Island of Hawaii.
Its best to visit my blog to get the story behind my images and adventures.
Locally here in Kailua Kona my images can be purchased at Krazy About Kona in the Kona Inn shopping village.
Enjoy....
Aloha, Bryan
Related RSS Feeds