Profile Images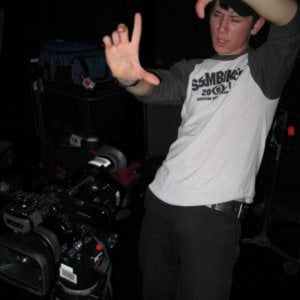 User Bio
Taylor Calmus started Caveman Productions in Howard SD in 1998. Growing up on an acreage in the country, he and his brother, Zach were always looking for something new to do. They built there own BMX racetrack and with a desire to make BMX highlight videos they purchased their first camcorder off of eBay. They began filming there bike riding as well as short comedy sketches such as "I can't believe it's not margarine," or "The Fifth Sense."
By the time Taylor was in high school he was becoming more and more passionate about film. He, with the help of many friends, produced his first hour long film entitled "Nip and Led's Excellent Adventure." Taylor was soon known as the video kid of his small town and was hired to make anything from football highlight reals to wedding videos.
After high school in 2005, Taylor pursued his higher education at the University of Sioux Falls as a Theatre Major. There he obtained a few electronic media classes and was also able to apply for the Los Angeles Film Studies Center program.
In the Spring Semester of 2008, Taylor was accepted to the Los Angeles Film Study Center. He spent the semester improving his craft both in acting, and production. He intern with Tandem Arts and was then hired by them to be the assistant editor on the film "The Rock and Roll Dreams of Duncan Christopher.
Related RSS Feeds