CODE-EV
Joined

Location

Germany
Profile Images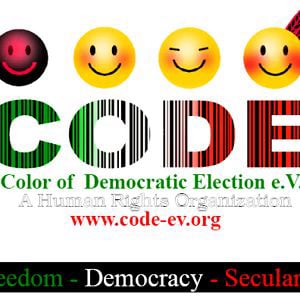 User Bio
Color of Democratic Election e. V
Wir unterstützen alle demokratischen Bewegungen weltweit.
Unsere Ziele im Einzelnen:
- Menschenrechte für alle
- Frauenrechte überall
- Abschaffung von Diskriminierung jeder Art
- Abschaffung von Todesstrafen
- Abschaffung von Folter
- Freie demokratische Wahlen
- Religionsfreiheit, Meinungsfreiheit, Sexualitätsfreiheit
- Abschaffung von Zwangsverschleierung von Frauen
- Freiheit für alle politischen Gefangenen
- Freiheit für alle konfessionellen und geistlichen Gefangenen
- Parteien- und Pressefreiheit
Sollten Sie unsere Meinung teilen können, würden wir uns über Ihre Unterstützung sehr freuen.
انجمن رنگ انتخاب دموکراتیک
اهداف ما
١. حقوق بشر برای تمامی اقشار
٢. اتمام هرگونه تبعیض جنسی، عقیدتی، نژادی، سیاسی
٣. لغو قانون مجازات به مرگ
٤. انتخابات آزاد
۵. آزادی ادیان، آزادی اندیشه و بیان، آزادی جنسی
٦. آزادی احزاب، انجمنها و مطبوعات
٧. آزادی زندانیان سیاسی
٨. آزادی زندانیان عقیدتی
ما از هر گروه، حزب و سازمان که طرفدار ایجاد دموکراسی باشد حمایت می کنیم . اگر شما هم با ما در آرمانهای انجمن هم عقیده هستید، با حمایت خود ما را یاری فرمائید
Color of Democratic Election inc.
We support all democratic movements worldwide.
Our aims in detail:
- Human rights for everyone
- Women's rights everywhere
- Abolition of discrimination of every kind
- Abolition of capital punishments
- Abolition of torture
- Free democratic elections
- Freedom of worship, freedom of speech, sexuality freedom
- Abolition of compulsive veiling of women
- Freedom for all political prisoners
- Freedom for all confessional and ecclesiastical prisoners
- Party freedom and freedom of the press
Should you be able to divide our opinion, we would be glad about your support very much.
Related RSS Feeds