Dennis Jauch
Joined

Location

Los Angeles, London
Profile Images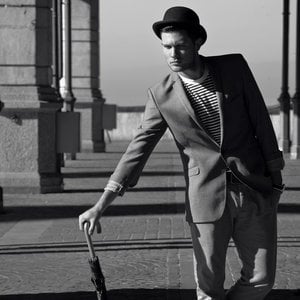 User Bio
Dennis, born in the cold north of Germany, soon realized his passion for dance when he first shuffled his feet around his parents' very own dance school at the tender age of 3 years old.
Many years and countless trophies later Dennis decided to enter the German version of the world renowned dance casting show 'So You Think You Can Dance'. After 3 months of intensive work up against thousands of contestants and competing in numerous live TV shows with millions of viewers, he took the trophy of 'Germany's best dancer' home.
Shortly after this Dennis started making a name for himself in the industry working for superstars such as Beyonce, Alicia Keys, Kylie Minogue, Pitbull and TV Shows like 'The X Factor' to name but a few.
Meanwhile basing himself in Los Angeles and London, Dennis has made his dream of working as a Creative Director and Choreographer become a reality. His clientele range from global superstar Leona Lewis, to the international successful franchise TV show 'German Idol' to the worlds best selling touring live show 'Art on ice'. His broad range of skills, fresh outlook and passion allow him to create stunning spectacles in any style that is required. Dennis uses his talents and vision to produce incredible and memorable pieces, and has been able to share this with millions of spectators worldwide.
The future is bright for this rising young talent, and with so much already accomplished Dennis is excited about his up and coming projects that are sure to blow you all way!
-------------------------
Dennis, der im hohen Norden Deutschlands aufgewachsen ist, spürte seine Vorliebe zum Tanzen bereits im zarten alter von 3 Jahren, als er in der Tanzschule seiner Eltern zum ersten mal das Tanzbein geschwungen hat.
Viele Jahre und zahlreiche Auszeichnungen später entschied sich der nun 18 jährige an der Welt berühmten Casting Show 'So You Think You Can Dance' (in Deutschland You Can Dance) Teil zu nehmen und einem Millionen Publikum zu beweisen, dass er das Zeug zu Deutschlands bestem Tänzer hat. 3 Monate voller harter Arbeit, tausenden Kandidaten und zahlreichen Live TV Shows später, nahm er schließlich die Trophäe mit nach Hause.
In den nächsten Jahren machte sich Dennis schnell in der internationalen Szene einen Namen und zählt Klienten wie Beyonce, Alicia Keys, Kylie Minogue, Pitbull oder auch TV Shows wie The X Factor, um nur ein Paar zu nennen, zu seinem Reportoire.
Der mittlerweile in Los Angeles und London lebende Dennis verwirklichte schnell seinen Traum von grenzenloser Kreativität und arbeitet mittlerweile weltweit als Creative Director und Choreograf für Kunden wie Superstar Leona Lewis, weltweit Tourende Live Shows wie 'Art On Ice' oder TV Formate wie 'Deutschland sucht den Superstar' und setzt seine Visionen für ein Millionen Publikum in die Tat um.
Related RSS Feeds