Attila Bogdán AkaMoreno
Joined

Location

Budapest, Hungary
Profile Images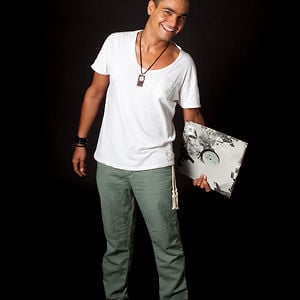 User Bio
Rhytmic Cadence Production DJ/Producer/Radio HUN
(facebook.com/cellarstream)
(soundcloud.com/djmorena/tracks)
Attila Bogdan (Moreno)
The young dj and producer, Attila Bogdán was born in 1984 as a child of Hungarian-Arabian parents.
Music aroused his interest quite early, at age 10 he was presented with his first instrument, a synthetizer, about which he was enthusiastic enough to practise all day long, although for a period of time his studies stole the spotlight form music.
Four years had passed befor
e he bought a more sophisticated musical equipment, "Stage Line" record players and a mixing console. Then he began to collect records…
He became resident dj of school parties, still searching for the most satisfactory musical trend, so he was making experiments with a wide range of styles. In this period he became acquainted with his musician friends Feeder and SanFranciscoBeat. Later he meets with Chris Ronson, who takes Attila under his wing, so his style is characterized more and more by tech house and vocal house. Then he leaves home due to family reasons, his relationship with music comes to a stop, and a four years long hiatus follows.
At the age 19 his footing regained, a wiser and more mature young musician sets about to rebuild his musical career.
His talent unfolding, more and more opportunities present themselves on different parties, then on open-air events, where Attila proves and makes his audience feel his zeal and passion for music every time! His regular performances get under way.
In 2008, on a vacation to Greece he accepts an unexpected invitation and achieves a great success on Golden Beach, on the island of Thassos. Later this year, while visiting the island of Tenerife with his friends, he again gets a wonderful opportunity as a surprise from his friends, and makes a performance in El Fáraó Club. Having overwhelming success with the audience, after only two weeks he is again invited to the island, this time to Mana Club, where Attila spends a night of splendid success once again.
By 2009 he equips his own home studio, and begins working as a producer. Now his enthusiasm about music prompts him to take piano lessons. He gets to know Laci Ötvös, a famous funky house dj of Hungary – another useful acquaintance, who later provides him with unremitting support to building his career.
From 2010 on we can hear his mixes every second week on Nugen FM. (nugen.fm/hu/musor/szerda/tonite-heroes.ngfm). With old friends Feeder and Autorun, they begin to hold joint parties organized by themselves.
From 2011, Attila focuses primarily on composing his own music, proceeds to learn and begins to co-operate with SanFranciscoBeat.
Clubs where he played:
Colosseum, E-Klub, Bank Dance Hall, Club Play, El Fáraó, Royal Dance Club, Cassa De La Musica, Club Symbol, Meridien, Mana, Candy, Night Train, Play, Kosmos, Mocca Café, Supersonic Technikum
He was inspired by:
Mark Broom, Nick Curly, Asio (Aka_R-Play), Mauro Picotto, Alexi Delano, Joseph Capriati, Audio Injection, Erphun, Hans Bouffmyhre, Perc, Spektre, Sasha Carassi, Cari Lekebusch, Felix Kroecher, Urko, Umek, Von Ukuf, Mleden Tomic, Luigi Madonna, Mihalis Safras, Mr. Bizz, Sinisa Tamamovic, Tom Hades, Uberto, Spartague, Marco Bailey, Lutzenkirchen, Jon Rundell, Subfractal, Phunk Investigation, Piatto, Bodyscrub, Human Tech, Mozaic, DJ Madskillz, Elchinsoul, Denis Horvat, George Privatti, Kaiserdisco, Gregor Tresher, Hector Couto, Mastiksoul, Oliver Koletzki, Robert Babitz, Sascha Sonido, Steve Valentine, Stefano Noferini, Timo Maas, Dandi & Ugo, Tube & Berger, Boris Brejcha, Dataminions, Da Fresh
BOOKING: djmorena0218@gmail.com
Phone: +36 30 570 55 62
Websites:
trackitdown.net/profile/attila-bogdan-aka-morena
about.me/attilabogdanakaMoreno
facebook.com/DJMoRena
soundcloud.com/djmorena/tracks
myspace.com/morena0218
twitter.com/BogatyMorena
youtube.com/user/DJMorena1984
thedjlist.com/djs/MORENA
morena.official.fm/
chicagomusicpromotions.com/Morena
Related RSS Feeds