Evan Gaynor
Joined

Location

Waukee, Iowa
Profile Images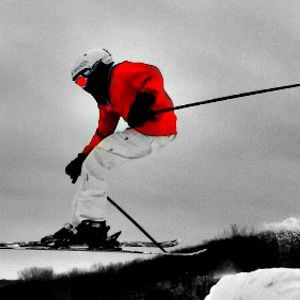 User Bio
Tell us about skiing at your home mountain where you started skiing and where you ski today.
My home mountain kinda sucks. I live in Iowa and there are not any MTS. I ski on a hill... small but better than nothing. The park is ok but not great. I started skiing at Seven Oaks at a friend's birthday party. I still ski at Sevon Oaks and other places in Iowa.
How did you get into skiing?
I started at a frined's birthday party. I first tried snowboarding but I couldn't do it to save my life. So I tried skiing and I was pretty good for a first timer.I only fell once the first day.
Why do you ski?
WHY NOT?!?!?!?!? I ski because I love the outdoors and I have a great time skiing, even with snowboarders!!!!
Tell us a great story or two about skiing or anything good or bad.
I have a Contour GPS Helmet cam. It tracks my speed,location, and allitude.I think it's better than the Go Pro. One time I went down the hill as fast as I could and later that day I checked how fast I went.... it read 42MPH
What words do you live by?
Hard work beats talent cause talent doesn't work hard, and you have to do the things you don't want to do to do the things you want to. THE BIBLE.... Philippians 4:13 I can do all this through him who gives me strength.
What else would you like to say?
JESUS CHRIST IS MY LORD AND SAVIOR.
Related RSS Feeds
Evan Gaynor does not have any videos yet.
Recent Activity
Evan Gaynor does not have any activity yet.