Galeria António Prates
Joined

Location

R. Alexandre Herculano 39A LX PT
Profile Images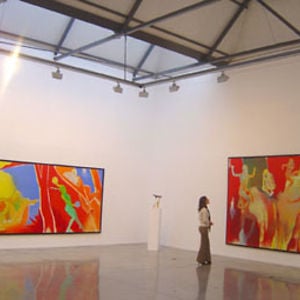 User Bio
Opened in 1996, Galeria António Prates is committed to offering the very best in contemporary and emerging art of international quality, having collaborated with several reputable galleries and institutions for the realization of high standard shows such as the Karel Appel Foundation, MNCARS, MEIAC, among others.
The Gallery is located in a very ample and brightly lit space perfectly suited to showing large scale works in painting and sculpture, as well as allowing for the creation of project rooms and installations in an exhibition space that is over 7m in height and 300m2 in area.
The gallery collaborates directly with several artists of international renown from various European artistic movements. From Figuration Narrative (European Pop Art), do Nouveau Realisme, from Pop Art and from Neo-expressionism among other movements, we have had shows by Allen Jones, Mel Ramos, Erró, Jacques Monory, Bernard Rancillac, Ivan Messac, Antonio Seguí, Julio Le Parc, Jan Voss, Arman, Martin Barré, Yves Klein, Bengt Lindström, Markus Lüpertz, Karel Appel, Klaus Zylla, Eduardo Arroyo, Peter Klasen and Vladimir Velickovic.
The Gallery also regularly works with a group of Spanish artists. We have had several shows by artists from Spanish informalism, such as Rafael Canogar, Luis Feito, Manolo Valdés, Antonio Saura, Antonio Suárez and Manuel Viola, some of the most consecrated Spanish artists of the present. Among the younger generation, we also work with Alberto Reguera, José Manuel Ciria, Esther Pizarro, Xurxo Oro Claro, Andrés Alcántara, Hilario Bravo and Manuel Patinha.
The gallery also has shows by renowned portuguese artists, among them Noronha da Costa, Nadir Afonso, Cruzeiro Seixas, Júlio Pomar, Paula Rego, Júlio Resende, Julião Sarmento, Leonel Moura and José Nuno Câmara Pereira. The Gallery also considers it important to support promising young artists, thus it works also with Clara Martins, Eva Alves, Mariana Gillot, Telmo Alcobia, Gabriel Garcia and Martinho Dias.
More recently and in a bid to present ever more ambitious projects in contemporary art. The Gallery has organized exhibitions with artists from an international art movement that brings together art and science, such as Harold Cohen, Ken Rinaldo, Suzanne Anker, C.E.B. Reas, Christa Sommerer & Laurent Mignonneau, Miguel Chevalier and Eduardo Kac; Also, in April and May of 2012, the Gallery opened a show of Street Art by a group of respected artists from that movement in Portugal and the world, including the artists Costah, Dalaiama, EL ST, ± , MAR, Maria Imaginário, Pantónio, RAM, Target, YUP- Paulo Arraiano and Robert Proch, where each artist was able to painti directly on the gallery's canvased walls, from ceiling to floor.
Throughout its existence the Gallery has held a minimum of 4 solo shows per year, and since 1996 it has held 72 solo shows, 3 shows by only two artists, 24 group shows, among which is the show "Bioart", and it has participated in the Lisbon Art Fair since 1999, ARCO in 1998, Flash Art Bologna in 2005, and Art Madrid from 2006 to 2009.
Its exhibitions are accompanied by fully illustrated, bilingual catalogues. Working hours are from Monday to Friday, from 11am to 8pm, and Saturdays from 3pm to 8pm. All shows have free entry.
Related RSS Feeds
Galeria António Prates does not have any videos yet.
Recent Activity
Galeria António Prates does not have any activity yet.