Gregory DAVID
Joined

Location

Le Mans, France
Profile Images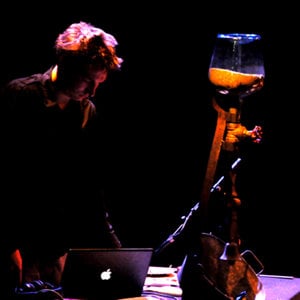 User Bio
Bercé pendant la grossesse à « L'apocalypse des animaux » de Vangelis, l'univers musical de Grégory DAVID correspond à un mélange de Murcof, The Future Sound Of London, Front 242, Nine Inch Nails, Apparat, René Aubry, Pink Floyd, Tangerine Dream, Klaus Schulze.
Il rencontre dès 6 ans son premier instrument de musique : le Gmebogosse. Cet instrument électroacoustique développé par le Gmeb (Groupement de Musique Électroacoustique de Bourges) lui apporte alors les premières lumières qui le guideront plus tard, à savoir la synthèse sonore et la boucle.
Pendant son début d'adolescence, son lien avec la musique n'est que commercial et ce, jusqu'à la découverte de The Future Sound Of London, qui lui rappelle alors toute la pertinence de la musique synthétique. Dès lors, il conçoit sa propre notion de musique en puisant ses ressources dans le festival Synthèse (Bourges, imeb.net/), Dead Can Dance, The Future Sound Of London, Front 242, parmis lesquels il retrouve l'émotivité et la sensualité de la musique.
En 1996, il fait la rencontre de Xavier MAUPETIT, professeur de cor d'harmonie et membre du groupe de jazz [Band ar Jazz], qui sera pour lui une révélation. En effet, Xavier MAUPETIT va être un guide implicite dans la compréhension et l'analyse de la musique pour Grégory DAVID. Il l'aidera notamment dans sa construction mentale de la musique et dans la projection visionnaire des sonorités.
Dès 1998, Grégory DAVID commence à composer sur ordinateur à l'aide d'un « tracker », par lequel il se met en quête d'une sonorité, de son propre caractère sonore. Il entame alors une recherche personnelle lui permettant de déterminer quelles sont ses sens et sensibilités.
Cette recherche durera une dizaine d'années, pendant lesquelles il élargira son domaine de créativité à l'imagerie numérique, tant statique qu'animée. Il travaillera notamment dans la post-production cinématographique et sera à l'origine de nombreux spectacles multimedia (Sackboutboute, Népenthès, Paradoxe Immobile, Décadence, Cf. groolot.net/spectacle).
Aujourd'hui il est compositeur de musique électronique pour son projet personnel (groolot.net), mais aussi pour des spectacles (Petit Arbre de la Compagnie Pièces et Main d'Œuvre) ou des installations artistiques (prypiat.fr).
Related RSS Feeds