Hector Canonge
Joined

Location

New York City, USA
Profile Images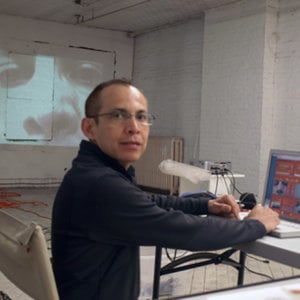 User Bio
(English)
Hector Canonge is an artist based in New York City where he studied Comparative Literature, Filmmaking, and Integrated Media Arts. His work incorporates the use of New-media technologies, physical environments, cinematic and performance art narratives. In his work he explores and treats issues related to construction of identity, gender roles, and the politics of migration. His performances mediate movement, endurance, and ritualistic processes as well as the interaction with the public. Canonge's visual arts projects and performance art work have been presented at Queens Museum of Art, Bronx Museum of Art, Flux Factory, Exit Art, Topaz Arts, Crossing Art Gallery, Y Gallery, Dixon Place, Grace Exhibition Space, Panoply Performance Laboratory-Surreal Estate, IATI, Cadwell College, and Vaudeville Park among others. Before embarking on a seven-month trip to South America to develop and exhibit new projects, Canonge presented the second installment of ITINERANT, a seasonal performance art festival in New York CIty, participated in QUEERGASM at North Western University in Chicago, and performed "My Last Supper," a farewell durational performance at Trinity Church, NYC.
In 2011, Canonge represented the USA at AMBER'11 Art and Technology Festival in Istanbul, Turkey, and was invited to participate at Fountain Art Fair in Miami. In 2012 he participated in the online project for the 7th Berlin Biennale, and was featured in the online publication HYPERALLERGIC. From June – December of the same year, Canonge lived in South America producing and presenting new projects, giving lectures and workshops in Bolivia, Argentina, Ecuador, Colombia, Peru and Brazil. He was invited to participate in the 2012 UN World Peace Day – First Linzhou World Peace Art Exhibition in China, and presented a controversial performance art project and exhibition, "KOKA," at the Museo Arqueológico UMSS in Bolivia. This past January, Canonge participated in the Encuentros 2013 of the Hemispheric Institute for Performance & Politics in Sao Paulo, Brazil. Canonge has recently returned to the United States to start working on his new project, LABORAL, as part of his Franklin Furnace Award 2013.
As curator, exhibitions to his credit include: GAYLERIA (2011), ABSENCE at Queens Museum of Art (2010), BABEL at Space 37 (2010), FRAMING AIDS – Positive I (2008) for Queens Media Arts Development, and Queering Bodies for VISUAL AIDS (2007) among other smaller exhibitions projects. Canonge curates and organizes the monthly artists' program A-LAB Forum at Crossing Art Gallery, directs the monthly independent film series CINEMAROSA, and organizes the annual city wide Performance Art Festival, ITINERANT. His work has been reviewed by The New York Times, ART FORUM, New York Daily News, Manhattan Times, Hispanic Magazine; by major networks ABC, NBC, CNN, CBS, UNIVISION, etc., and by online art publications such as Art Experience NYC, NYRemezcla, Turbulence, ART CARDS Review, NYFA Classifieds among others.
(Spanish)
Hector Canonge vive en Nueva York donde estudió Cinematografía, New Media Arts y obtuvo su
postgrado en Integrated Media Arts de City University of New York. Su trabajo artístico es interdisciplinario integrando el uso de nuevas tecnologías, artes mediáticas, narrativas cinematográficas y de arte performance. Su obra ha sido presentada en museos como el Bronx Museum of Arts , Jersey City Museum , Queens Museum of Art , en galerías como Exit Art, NY Studio Gallery, Winkelman Gallery,Y Gallery , y en espacios de arte como Flux Factory, Gallery Aferro, Topaz Arts, Art for Change, Gowanus Studio Space , Grace Exhibition Space, y Defibrillator entre otros. Canonge ha obtenido comisiones de arte por NYC Department of Transportation , The Queens Council on the Arts , Queens Museum of Art , Artists Unite , Association of Hispanic Arts (AHA) y recibido apoyos de mérito por el New York State Council on the Arts , Lower Manhattan Cultural Council -MCAF Program , Northern Manhattan Arts Alliance y JPMorgan Chase Foundation entre otros.
Como gestor y curador, ha organizado exposiciones: "ABSENCE " realizada en el Partnership Gallery del Queens Museum of Art , "BABEL" en la galería Space 37 , "FRAMING AIDS" para Queens Media Arts Development , y "Queering Bodies" para la organización VISUAL AIDS . Canonge organiza el programa mensual para artistas, A-LAB Forum, en Crossing Art Gallery , dirige la serie mensual de cine independiente, CINEMAROSA y creó ITINERANT el primer festival de arte performance en los 5 condados de la ciudad de Nueva York.
En 2011, Canonge participó en AMBER'11 Art and Technology Festival en Istanbul, Turkey, presentó nuevos proyectos de arte performance en la feria de arte, Miami Art Fair 2011 y capto la atención de la prensa y los críticos norteamericanos por su proyecto de arte social y público, "The Inwood Laundromat Language Institute", al transformar una lavandería en un espacio de arte / alfabetización donde inmigrantes aprendían el inglés. El 2012, Canonge fue incluido en el proyecto online de arte de la Berlin Biennale y organizó ITINERANT, el festival de arte contemporáneo de performance en los cinco condados que constituyen la ciudad de Nueva York. Antes de su regreso a Sud América, el artista presentó su trabajo para la prestigiosa universidad Northwestern University y para el School of the Art Institute in Chicago, así como exhibió su proyecto "Luminous Coils" en la feria internacional de libros de arte, MAS QUE LIBROS, en Madrid, España.
Desde mediados del 2012, Canonge realizó y presentó proyectos en Sud America: SUI GENERIS, KOKA, OhRIENTE, ANIMALIA, SIN FRONTERAS en Bolivia; LA OTRA CARA y DES-CUBRIMIENTO en Argentina; NATIVE QUEER en Ecuador y además realizó performances en Colombia, Chile y Perú. En 2013, Canonge participó en el Encuentro del Hemispheric Institute for Performance Art and Politics en la ciudad de Sao Paolo, Brasil, y comienza la producción de su proyecto LABORAL premiado con una beca por prestigiosa organización Franklin Furnace de los Estados Unidos.
La obra de Canonge ha sido mencionada y anotada por periódicos: The New York Times, NY Daily News, Manhattan Times, Queens Tribune; revistas: ART FORUM, Hispanic Magazine, Time Out NY; televisión: ABC, NBC, CNN, CBS, France Channel +, Televisa, UNIVISION; y en la red: Art Experience NYC, NYFA Newsletter, NYRemezcla, Turbulence, and ART CARDS Review entre otros. Su trabajo en arte performance ha obtenido el reconocimiento de la revista HYPERALLERGIC de Nueva York donde fue incluido con notables personalidades de dicha disciplina.
Related RSS Feeds