HIEROGLYPH THESAURUS
Joined
Profile Images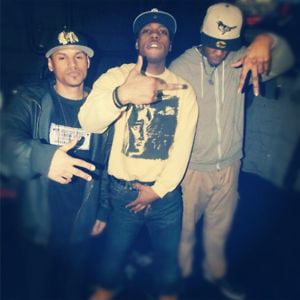 User Bio
Get Ready Evolution Evolve Naturally!" is the acronym to GREEN in the tittle "Road to the Hidden G.R.E.E.N Village".Which is The tittle of Hieroglyph Thesaurus's second with production from Dj Eddie Marsz .. Welcome to the phoenix of what time has created. Lets continue to rock this..
Hieroglyph Thesaurus's work has already lead to collaborations with Charlie Ahearn, director of Wild Style, Hieroglyph Thesaurus has already put out album early 2011 "Ground Zero Generals" with the help of record label Social Registry with production from Skeletons and Tim Dewitt (of Gang Gang Dance).
Hieroglyph Thesaurus has performed at many monumental places on the New York city scene I.e. venues like Don Hills / The Kitchen / Shea Stadium / Spin New York / Zebulon / Public Assembly / 3rdEye(sol)ation / The Knitting Factory / The Silent Barn / Free Candy/ The New Museum / The Freedom Garden and even opened up for Raekwon from the Wu Tang Clan at BBKings.
Hieroglyph Thesaurus haves already shared the stage with Mr. Lif / Kool Keith/ Prefuse 73/ Skeletons/ Friends and Mic Blaque
Hieroglyph Thesaurus's work has already lead them to have appearances with old school legend's such as Rahiem of Grand Master Flash and the Furious Five, and Water Bed Kev of the Fantastic Five.
Hieroglyph Thesaurus shot there first short music film with the help of legendary director Charlie Ahearn. Whom directed the hip - hop classic movie "Wild Style" The film "All City" was shot on the Brooklyn bridge with brass band Luck Chops. The film was showed IFC rooftop film festival / BMW Guggenhiem Lab / and the B.A.M theater.
Hieroglyph Thesaurus won a slot in the Afro-Punk Battle of the Bands at Free Candy
External Links
FACEBOOK - LIKE OUR BAND PAGE FOR EVENT INFO PHOTOS AND ALL OTHER BEHIND THE SCENES UPDATES FROM TE TEAM
HULK SHARE - FREE DOWNLOADS TO OUR MUSIC
SOUNDCLOUD - FREE DOWNLOAD TO OUR MUSIC
Related RSS Feeds
Recent Activity
HIEROGLYPH THESAURUS does not have any activity yet.