Dj Lex
Joined

Location

NEW YORK
Profile Images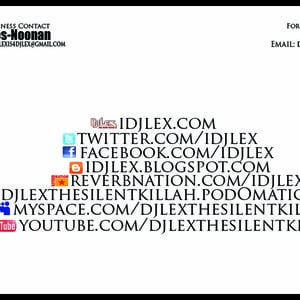 User Bio
One might be hard pressed to find anyone who embodies the creativity, diversity, and originality of the Hip-Hop generation better than The Silent Killah DJ Lex. Born to Greek-American parents in Astoria, Queens, Lex was raised on the Motown classics, disco and soul music that would eventually give way to the Hip-Hop movement. In a neighborhood consisting mostly of European immigrants and their descendents, Lex was one of the few kids who preferred Hip-Hop, R&B, and Reggae to the freestyle, acid house, and club music one was most likely to hear coming from his neighbors homes and cars in the early 80s. In 1990, at the young age of 14, Lex bought his first set of turntables and a mixer. By the time he was in high school, Lex got a taste of the life of the club jock, rocking neighborhood jams and house parties into the wee hours of the morning. In addition to the fact that he often was the only source through which his peers could hear the hottest new Hip-Hop and R&B flavors, Lex's undeniable skills as a turntablist solidified his popularity, laying down the foundation for a career which, more than fifteen years later, still shows no sign of slowing down.
DJ Lex's professional career started in the mid-90s, while he was a student at SUNY-Plattsburgh, where he earned a B.A. in Communications with an emphasis on Broadcasting and Recording. With Lex holding down two specialty show slots, The Silent Killah was born, captivating audiences with both his charismatic presence as an on-air personality and his flawless technique on the 1s & 2s. Always seeking to push himself as he developed his career, Lex also played a role behind the boards at his college stations, earning his FCC license as an engineer in 1995. Since his college days, DJ Lex has built up a resume which is impressive to say the least. Coupling his love for Hip-Hop, R&B, and Reggae with an appreciation for the eclectic sounds to which he was exposed as a kid, Lex has kept crowds of partygoers motivated on dance floors from New York to Montreal to the exclusive Pocono Mountains and as far as Greece, with residencies and guest appearances at some of the hottest venues in New York City - including Cheetah, Limelight, The Tunnel and Groove Jet, at the height of their popularity. His experience as a show DJ is equally as impressive, having opened for such major artists as KRS-1, Beatnuts, Method Man, Spragga Benz and Nas, to name a few.
Having conquered clubs and concert performances alike, DJ Lex set his sights on dominating the mixtape industry. Since his first release he has consistently dropped one to two mixtapes a month, which are distributed through hundreds of independent retail locations throughout the country, and in Australia, Japan, and the U.K. as well. His international appeal is largely accredited to the fact that Lex has never allowed New York's flavor to limit his mixtape catalogue, thus becoming one of the most diverse mixtape DJs in the game, catering to several different genres in various markets. His exclusive blends and instrumentals - masterfully combining Hip-Hop, R&B and Reggae, from old-school to new - have kept Lex's mixtapes in high demand. They have also drawn the press's attention to the Silent Killah, with magazines and websites such as Ozone, Grindmode and HipHopNews.de in Germany, constantly praising the quality and style of his many releases, along with countless others which staunchly support the mixtape movement. In 2003, DJ Lex's position in the movement was officially solidified, when he was nominated for the coveted Justo's Mixtape Award. Now a member of the Noize Mob DJs and Bum Squad DJs, and a resident DJ on Sirius Satellite Radio's Backspin 43, DJ Lex is using his smooth style, effortless ability to please crowds and audiences, and his high-profile affiliations to spread his reach across the country and the globe. He hopes to use his experience and overall determination to transition from a tastemaker to a music creator - aiming to place himself among the ranks of top producers like Dr. Dre, Timbaland, the Neptunes, and DJ Premier; and eventually owning and operating his own label.
Related RSS Feeds