Arena Animation Geeta Bhawan Sq,
Joined

Location

Indore
Profile Images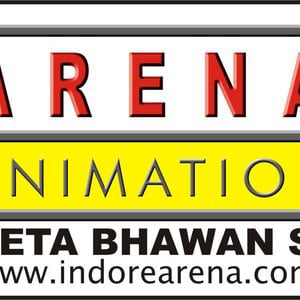 User Bio
Arena Animation, Geeta Bhawan Square, Indore is a Premier Design & Animation Institute of Central India imparting high quality education in the field of Multimedia & Animation including Graphics, Animation, Electronic Media, Gaming, E-learning and Web Designing. Arena GBS, Indore offer a wide range of career and professional courses suitable for professionals and students..
Arena GBS is renowned for its value added activities including Seminar, Workshops, Master Classes, Contests, Industry Visits etc. It has also volunteered for CSR activities in bringing NGO activities of International NGO ASIFA INTERNATIONAL and commenced Indore Chapter for Asifa India.
Lot of Students are placed in bluest of the blue chip companies from Arena GBS, Indore.
SUMMARY
15 years of proven & successful experience and track record (since 09.09.1997) in providing state-of-the-art training in Graphics, Authoring, Animation, Web, Post Production/ VFx, Content Development and Electronic Media.
• Pioneer, trendsetter and leader in Multimedia & Animation Training in central province of India.
• Outstanding track record in Academic, Placements, Corporate training on Multimedia application clearly demonstrates versatile performance.
• Winner of Several Awards/Accolades on Performance and Achievements
Partial Students Placement List
Animation Studios like Rhythm and Hues, UTV, Crest, Krayon, DQ, MEL, Pixion etc,
Production houses like Prime Focus, Fablefarm Studios, Visual Computing, Reliance Media Works, Pix n Trix, Sanskar, Sahara etc Web Design Co's like IBM, Infosys, Tata Consultancy, Accenture, Diaspark, Webgility, Symphony, Synchron Systems, Mind Experts-US,Infobeans, Sofeman, Visucs Infobiz etc Gaming Co's like Indiagames, Trine Games, Hungama, Zapak, Webdunia, Astute Systems etc
Ad agencies like O&M, Mudra, Percept P9, Percept Swift, Srujan Advertising, Source Advertising, Purple Focus, Deepak Advertising, Anil Publicity,Notre, etc.
TV Channels like NDTV, CNBC, Zee TV, India TV, SAB TV, Zee CG, Digi Cable, B TV, ACT TV(SR Cable), WWS Skyshop etc
Graphic Co's like Ashi SR Gems, Communion, Matchbox, Raag, MG Creations, Navin Digital etc
Institutes like Symbosis ,MAAC, Framebox,Picasso Animation College, Virtual Voyage,DII, RCA Digital, Explora, Fluids Academy, Ants Animation etc
Allied Co's like Mahindra & Mahindra, TCS, PCS, DCBS, Wizcraft, Chesterroc-Mauritius, Apticraft, Scientech, CSC India, Gatesix, Enercon, Tanmay Software, Pragati Systems, etc
List for Student Awards, film Showcasing
KAPIL PANDIT
Arena (Geeta Bhawan Square), INDORE
Short Film Screening- The Small Window for NID
Category :Short Animation Film, UNICEF Film
Contest : Film Festivals at Spain, France,Israle, Germeny, Shortlisted in ASIFA INDIA Award of excellence
PAWAN PATIDAR
Arena (Geeta Bhawan Square), INDORE
2nd Prize
Category :Drawing & Digital painting of Ganesha
Contest : THE BIG GANESHA CONTEST
SAFIA QURESHI
Arena (Geeta Bhawan Square), INDORE
Best and Brightest Contest
Category :Vector Painting-Digital Graphic Category
Contest : Golden Cursor Animation Awards
KOUSHLENDRA DESHMUKH
Arena (Geeta Bhawan Square), INDORE
1st Prize
Category : Video/Animation Contest : CREATIVE MINDS
SAURABH JAIN & HIS TEAM
Arena (Geeta Bhawan Square), INDORE
1st Prize
Category : SHORT FILM-STUDENT Contest : 24 FPS-2009 held at Mumbai
RITESH VERMA & HIS TEAM
Arena (Geeta Bhawan Square), INDORE
1st Prize
Category : AQUARIUS-BEST ANIMATED SHORT FILM Contest : FRAMEFLIX AWARD 2010 held at Goa
LAKULESH SHARMA & DEVASHU JANAWADE
Arena (Geeta Bhawan Square), INDORE
1st Prize
Category : SHORT FILM Contest : FLUDIAN CONTEST
IMA Animation Maestro Award- One Lakh Contract
Winners- Majhesh Ingla, Mohan Prajapti, Deepak Rai
Special Mention Winners-Chandni Rochlani, Sudeesh Pardesi
National Award 2011 as Role Model from Govt of India,
Ministry of Social Justice & Empowerment
Gaurav Muchhal (Dumb & Deaf)
CSR(Corporate Social Responsibility & NGO activities
ASIFA INDIA-Founder Member for Indore chapter of ASIFA INTERNATIONAL for community building in animation since 2008
TASI(The Animation Society of India)-Managing outstation activities of TASI at Indore for community building since 2009
SCIFA(Society for Central India Film and Animation)- Volunteer & Founder Members for community building in central India since 2009
o Arena Students of Centre amongst Winners in several Contests including Creative Minds, Golden Cursor Animation Awards, International film festivals etc.
o Strong industry interface-Few dignitaries who have participated in events(workshops and Seminars at Arena Animation-Geeta Bhawan include Veteran Animation Film Designer-Dhimant Vyas-Aardman Studio UK, Vaibhav Kumaresh, Prosenjit Ganguly, Shekhar Mukharjee, Ashish Kulkarni, Shibu Menon, Geetanjali Rao, Anand Bhanushali, Yunus Bukhari, Subhajit Sarkar, Anand Gurnani, Dr.R.L.Mistry, Dr.Mukul Rawat, Yashraj Vakil, Indraneel Mallik, RVML's Creative Director and Producer Mr.Shashank V Rayudu, Mr. Shravan Cheryala, Technical Director, RVML Studios-Manila.
o Organized Studio Visits to Rhythm & Hues, Prime Focus, Naidunia Publication, NR Printers, Vijayshree Paper Products, Webdunia etc.
o Organized Campus Recruitment test for Rhythm & Hues (Apprenticeship Program), Campus Interviews for companies including Webdunia, Intercom Online, Bhaskar TV, Seven Star Web Technologies, Ashi SR Gems & Diamonds, Tech Extreme, Medisha Marketing, 6Degree IT, CDN Design Solution, Hypermedia, Vedanta Studios, E Color Studios etc.
o Founder Organization and organized International Animation Day for ASIFA during 2008 & 2009 at Indore with 1500 aspirants gathering. Involved all Animation academies of Indore including EMRC, MAAC, Frameboxx, Toonz, MIDDS, RCA Digital, Virtual Voyage etc. Rhythm and Hues Studios co-ordinated with Seminar from their representative Vinayak Pawar and Asifa representative Arpit Soni ( Ex Arena Student of our Centre working with R & H currently) attended the event in 2008. Mr.Subhajit Sarkar- R & H and Abhishek Chandra of CG Tantra attended in 2009. Asifa India- Indore Chapter officially launched in Oct'2010 with visit of Asifa International representatives during IAD-2010. Bill Dennis, Executive President, Asifa International & Sesha Prasad, Rhythm & Hues Studios formally launched Indore Chapter on 28.10.10. Also conducting ASIFA CG Meet Up, TASI and SCIFA events in Indore on a regular basis for community building.
o Have trained and placed over 6000 students, who are placed in India and abroad. List of Companies include Chesterroc-Maritius, Balaji Telefilms, Zee TV, Star Plus, Aaj Tak, Mahindra Finance, CNBC Awaz, Rhythm & Hues, Krayon Pictures, Crest Communications, O& M, UTV Toons, Urja Communications, Percept Advertising, Maya Entertainment, Jasubhai Digital, Shemaroo Entertainment, Info beans, Gate six, Sofeman, Fintek Solutions, Ashi SR Gems, Astute Systems, Seven Star Web technologies, Suvi/Webdunia, CSC India, Techfusion, Sanskar TV, Spinning Doors, Gurukul Online, HCL, Infosys, E-Color Studio, Ankit Advertising, Purple Focus, Percept Swift, TCS, Creative TV link, Satprakashan, Daly College Business School, Delhi Public School, SGSITS, Shishukunj International, Nijanand Graphics, Naveen Digital, BTV, Hypermedia, Raj TV, Adlabs, Mastermind, EGI, Empower Integrated, Video Arts, Srijan Advertising, Indira Exports, PNP International, Tanmay Consultants, MAAC, Explora, Virtual Voyage, Viscus Infobiz, Ebot, CDN Solutions,NIIT, Kalptaru, Media Factory etc.
o Engaged in CSR activites including training for physically disabled. Also conducted numerous workshops, seminars and programs during education initiatives by leading society organizations/NGO's.
o Conducted numerous Corporate training for insurance companies like LIC & GIC( National Insurance, New India Assurance etc), Pharma Companies like Lupin, Abbott India, PSU like Power Grid, Software major like NIIT, Automobile Cos like Piagio etc.
o Conducted numerous Master Class for Rhythm & Hues Studios, Mumbai for Rotoscopy & VFx
o For queries visit- indorearena.com/ or horizoninfotek.com/
Infrastructure / Teaching Facilities:
5 Fully Equipped Labs with State-of-the Art Infrastructure including latest Machines, Projector, Pre-production lab having Animation Light Boxes, Audio-Video Lab having Editing workstation with Mixer and Recording facility, Slot Booking Facility, Incubation Centre, Sketching & Drawing Labs, Theory Class Rooms having LCD TV's, Latest Scanners, Printers, Clay Modeling setup, Well Equipped Library, In-house Book production. Total Area of four premises approx.5000 sq ft.
• Aptech Limited
Aptech Limited is a global retail & corporate training solutions provider headquartered in Mumbai, India, with a presence across 5 continents. The company commenced its IT training business in 1986. Over the years, Aptech Limited has trained over 6 million students.
Aptech prepares students for global careers in IT, multimedia & animation, hardware & networking, aviation, hospitality and travel & tourism. Corporate solutions include corporate training, assessment solutions for corporate & universities/ academic institutions and custom content development for overseas & domestic customers.
In 1993, Aptech became the first IT training organization in Asia to receive the ISO 9001 quality certification for 'Education Support Services'.
The company has grown & diversified into various education-related businesses & its stock is listed on the BSE & the NSE.
For more information, visit aptech-worldwide.com/
• Arena Animation
Arena Animation is India's leader in animation & multimedia education with the widest network of centres across the country. Over a span of 15 years, 350,000 students & professionals have, through Arena centres in 20 countries , found their calling in animation, graphics, print publishing, web designing & films.
Arena offers basic & advanced courses in animation, graphics & web designing, gaming, and mass media & communications. University Degree & Diploma programs are also offered.
Career courses offered by Arena include:
• Animation with portfolio development: AAIP
33 months, 4 semesters, 2D & advanced 3D animation course with a focus on portfolio development.
• 2D & 3D animation film making: DAE
23 months, 5 semesters, intensive 2D & 3D animation film making course.
• Graphics & Web Design (GWD)
1-year course that offers training in creating websites using Adobe Photoshop, Adobe Illustrator, CorelDraw, HTML, DreamWeaver, Flash & JavaScript.
• Short-term courses Quick, short-term courses for students & working professionals who wish to sharpen their skills in one or more tools or software. Short-term courses cover software used in animation, multimedia, gaming, web designing - and more.
Arena also facilitates interest-free loans for students.
Website: arena-multimedia.com
"Arena's Mission is to create a pool of high quality multimedia and web professionals who will meet the demanding needs of organizations for the latest generation of multimedia applications."