Jessica Ardito Melz
Joined

Location

New York
Profile Images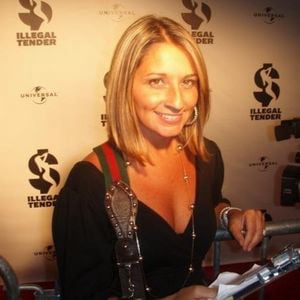 User Bio
"Jessica has a lot of talent and she's a hustler, she also has a great directing instinct. She has a great future ahead of her. I can see Jessica running the E! Channel, I see great Executive skills in her." ~ David Nevins, President Imagine Television & Executive Producer of "24," "Friday Night Lights," and "Arrested Development."
"Jessica is the savvy journeywoman, sardonically funny and full of ideas." ~Matt Roush, TV Guide
"Jessica has always impressed me, she is always very confident and has a twinkle in her eye." ~David Hill, CEO Fox Sports
"Jessica has GREAT ideas…she's the concept woman."~ Ananda Lewis, Host America's Next Producer
A 'Lil Bit About Jessica
Over the past 12 years, Jessica has earned the respect of many of the industry's leading producers, editors, critics and television executives. She has built a strong reputation for developing projects with style and substance, constantly pushing the creative envelope. She continues to bring innovative concepts and insights to the table.
Jessica began her career working for VH-1 in 1997, writing and producing hundreds of segments for channel trademarks like "Before They Were Rocks Stars" and "The Hundred Greatest Series." In 2001, she was scouted by Nickelodeon to start up their new Digital Network "Nicktoons TV." As Senior Producer, she built the network from the ground up and was involved in every aspect of the network's creation and branding.
Eventually her hard work and unique style caught the eye of Dash Films, an independent production company owned by rap mogul and business entrepreneur Damon Dash. She joined their team in 2003 and spent two years developing and producing highly stylized, music driven projects for Dash Films such as "The Truth: Beanie Sigel" for MTV2, "Behind The Scenes: Kanye West, Jesus Walks" DVD and "Rocawear Spring 2004 Collection" for BET.
In 2005, she left Roc-A-Fella Records and began working at Hollywood East Entertainment where she headed up production for the hit reality show "Unique Whips" airing on Fox's Speed Channel. It was Jessica's vision, unique managerial skills and unbridled passion which led the flailing show out of a major first season ratings slump and turned it into the second highest show on the network. Unique Whips, seen by more than 1.2 million viewers each week, jumped 60 percent from an average Nielsen Rating of .27 (171,000 HH) for show premieres in 2005 to .43 (283,000 HH) in 2006. Since it's last episode in July 2007, Unique Whips still airs daily on Speed Channel at 6pm.
After Unique Whips, Jessica was selected out of thousands of talented producers nationwide to compete in the reality series "America's Next Producer" produced by Magical Elves (Project Runway, Top Chef). The show was a great experience for Jessica both personally and professionally, and has solidified her credibility in the television industry.
After her exciting experience on America's Next Producer, Jessica landed a Supervising Producer position at MTV Networks Series and Specials department. She developed and supervised many projects including "MTV's and Us Weekly's Summer's Hottest A to Z ," "Room Raiders," and a "Star Wars Marathon Weekend."
Jessica has currently been pursuing her dream of creating and developing her own content with her own production company A.M.P Films. She has also joined forces with creator Kim Jackson Reeves of JR Media - the two work closely to create pilots for EP's, networks and viral formats. From reality to scripted Jessica has tons of concepts that are ready to be greenlit and aspires to be the next big thing in TV development.
"To say Jessica is dedicated to her craft would be an understatement. Jessica eats, breaths, and sleeps her career, attacking projects head on with unbridled determination and enthusiasm unmatched by most others. There is no project she can't tackle and no problem too difficult for her too solve. And she always gives one hundred and fifty percent of herself, no matter what the circumstances.
But that is not where her true value lies. Her greatest attribute is her personality. Jessica is quite possibly the most creative, talented person I have ever met. She is fun, clever, and extremely intelligent. She is a free spirit who devises stories and witty retorts faster than you can snap your fingers – leaving you doubled over in laughter and wishing you possessed a tenth of her mental acuity."
– Maureen Tait, Executive Producer Nancy Glass Productions
Related RSS Feeds