Jessi Teich
Joined

Location

Philadelphia, PA
Profile Images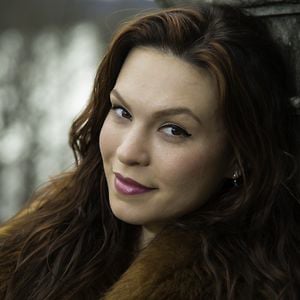 User Bio
"I was raised on the blues. When I was in second grade, my dad would drive us to school and we were late everyday because we had to finish this Ronnie Earl song we called 'The Banana Song.' At the end of the song, the guitar line goes up and then we would run from the car to school," singer-songwriter Jessi Teich recalls of her downhome music education. "My dad surrounded me with music, it was like breathing air."
The Philly-based native masterfully mixes jazz sophistication, blues grit, and soul's tragic romance. She's cultivated an edgy-but-elegant aesthetic that fluidly seeps into her music and fashion sensibilities. She's garnered favorable comparisons to Ella Fitzgerald, Sade, Fiona Apple, Billie Holiday, and Sarah Vaughn. The "The Mic Check" – The Purveyor of Truth has said "Jessi Teich is an old Blues, Jazz, and Soul singer trapped in a 20 something year old woman's body."
At age 8 Teich immersed herself in studying classical piano but by high school, she says, "I got into the 'bad girl' genres, jazz and blues" and fell under the influence of Miles Davis, Billie Holiday, John Coltrane, Jimi Hendrix, Janis Joplin, and Carole King. Teich ended up pursuing music at Berklee School of Music, getting a degree in music education, and later embarking on a professional music career.
A pivotal career moment happened accidently with an impromptu audition for an unrevealed opportunity. Teich, 19, was coming back on a ferry from Martha's Vineyard and her friend mischievously started blasting her CD from car the stereo. A woman in a car nearby was impressed and, upon hearing Teich sing on the spot, disclosed she was a talent recruiter for the Harlem Apollo Theater's infamous amateur night. "It's the one place in the world people come to see you fail," Teich says, laughing. "I remember thinking, 'I'm gonna quit singing if this audience boos me off.' As soon as I walked onstage two guys booed me but it upped the ante. By the middle of the song the entire audience was clapping for me, I got 2nd place. It was one of those moments."
In Philly she's performed with luminaries like the late Sid Simmons, Mike Boone, Byron Landham, and Beyonce's Saxophonist Tia Fuller; this summer she will perform as part of the 5th Annual Roots Picnic (alongside Kid Cudi, De La Soul, Diplo, St. Vincent, Stretch Armstrong, and DJ Diamond Kuts). She's also worked with Funkadelic's Bernie Worrell, Jen Durkin, Daniel Lanois, Trixie Whitley, Ronnie Earl, and G. Love. Recently, she collaborated with Grammy Award winner Phil Nicolo on mastering her debut. She's also expanded her profile both nationally and internationally with her impressive performance at Harlem's famed Apollo Theater and a transformative Paris tour. In December 2010 she issued her debut Barely There.
"I never took a songwriting class; I never thought I was any good. I knew structure but I wrote from the heart rather than a textbook," she says. She credits her father for inspiring her to write when she felt insecure about not having the academic grounding. "My dad said 'Jimi Hendrix never took a songwriting class.' He was right," Teich affirms. She writes impressionistically about heartbreak, love, loss, gain, and sisterhood. "When I write, it feels like I'm vomiting crazy emotions out of my system, it's this cleansing feeling, it's what keeps me alive," Teich says laughing.
During the making of her debut, Teich notice a hoarseness and lack of vocal power. She found out she had a cyst that looked like a water blister deep under her vocal fold and severe acid reflux whereby the acid from her stomach was irritating the lining of her vocal folds. At the time she was a music teacher, teaching ages 5-55 doing up to 40 lessons a week, 10 lessons a day. "I lost an octave and a half of upper range," Teich explains of the injury's affects. Putting off surgery, she embarked on a rigorous therapy regime and drastically altered her diet, limiting her intake to small bland meals and forgoing coffee and wine. She quit teaching and went to South America for 3 months where she realized she needed more than therapy and made the brave decision to have surgery. "Putting a knife to the thing you love the most is scary," Teich says. "For a week after the surgery you can't talk and you don't even know if you ever will again."
"I didn't speak a word for a whole month. I spoke with a chalkboard, people thought I was handicapped, deaf, or didn't speak English," Teich explains. "And then, lo and behold I had a weird, brand new voice that didn't sound like I smoked 6 packs a day. It sounded different. At first, it wasn't as strong, it was light and feathery," Teich says. She went through a measured but rigorous recovery and finally bounded back. "I feel power now in my voice that I never felt. It's as if I was given a second chance," she says. "It's a scary career-threatening thing but it's made me want to advocate and tell people about it."
Teich's artistry is a thoroughly immersed lifestyle. "Music cultivated my life as a child. My grandmother used to go see Bobby Darin, Sarah Vaughan, and I would get her hand me downs, these wonderful 1920s, '30s, and '40s fashions. I'm a visual person all the way, and the way I dress is a marriage of artistic powers," Teich says. She favors the classic but irreverent designs of Vera Wang, Bryon Lars, and Ted Baker. It's an aesthetic she describes as "feminine but with a harder edge."
Teich recently wowed Parisian audiences with a string of appearances. "One night, we went to a hole in the wall jazz club. It was the first time I sang in Paris; they didn't know songs I knew, I didn't know songs they knew so we improvised," Teich explains. "I get onstage and start singing and the guys in the back start hooting, hollering, and standing up."
Her most meaningful moment has been joining blues guitarist Ronnie Earl onstage—the guy whose 'Banana' song made Teich and her sister tardy to school everyday. "My dad sent my music to his manager and in return, Ronnie sent me his new CD, a postcard, and a Bobby 'Blue' Bland CD for inspiration," Teich says. One night she and her dad went to Bucks County to see Earl perform. "So he goes off the stage and recognizes me from my CD cover, gives me smile, and plays guitar to me. The very last song he called me up onstage. I had nothing prepared so I went to my default, a blues in d minor, and made up words. It was crazy. In my mind he's the biggest star." From being a little girl singing along to a blues legend before school to earning her place beside him onstage, Jessi Teich has lived up to the rich jazz and blues heritage she's long admired through simply living through her music.
Related RSS Feeds