Juicy Frames
Plus
Joined

Location

Cuenca
Profile Images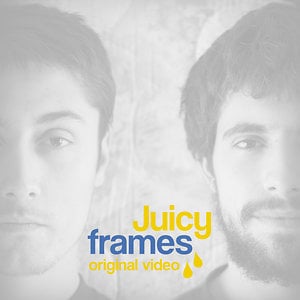 User Bio
Juicy Frames es un equipo de producción de vídeo que ofrece servicios
de grabación y edición audiovisual abarcando numerosos campos de trabajo.
Quiénes somos :
Fran Molina, técnico en fotografía artística, y Adrián Langreo, licenciado en bellas artes, unimos nuestras habilidades audiovisuales montando nuestros propios vídeos de skate a la edad de 14 años en la ciudad de Cuenca. Así empezó, peleábamos con cintas mini-dv y soportes de video
que iban apareciendo, fuimos creciendo y aprendiendo del video arte y la cultura del videoclip la importancia de la música en los vídeos. Por ello
lo dinámico es lo esencial en nuestro trabajo. En 2010 nos establecimos como marca oficial escogiendo el nombre "Juicy Frames". Estudio Furioso se encargó de crear nuestra imagen con el logotipo actual.
A partir de aquí comenzamos a trabajar en ámbitos publicistas
y promocionales, ya fuesen eventos, grupos musicales o negocios, adquiriendo así lo que más nos distingue, una gran habilidad plástica a la hora de editar.
Actualmente, moldeamos cualquier propuesta dándole nuestro estilo más fresco, dinámico y JUGOSO. Pensamos que el video online como método para promocionarse es la mejor estrategia para atraer y convencer a sus clientes.
Vídeos pesados, aburridos, fotografía barata… Pamplinas, todo eso queda
descartado en la fábrica de Juicy. Así que, ¿a qué esperas para conocernos?
___________
Juicy Frames is a video production team, offering audiovisual recording and editing services in a wide range of fields.
From the age of 14, Fran Molina – Artistic Photography Technician – and Adrian Langreo – Fine Arts graduate – put together their audiovisual skills to start producing their own skate videos in Cuenca (Spain). That´s how it all started: struggling with mini-DV tapes and other just released video formats, we began growing and learning from video art and video clip culture, getting aware of the importance of music in video productions. That´s why our work is all about dynamism.
In 2010, we launched our brand, Juicy Frames. Estudio Furioso provided us with our logo and corporate image.
From that moment on, we started working in the advertising fields, producing for bands and businesses among other customers, growing and featuring our great aesthetic editing skills.
Nowadays, we give any project our fresh, dynamic and JUICY style. We think online videos are the best way to draw and convince customers. Boring videos and cheap photography have no room in Juicy factory. So what are you waiting for? Come and meet us!
Related RSS Feeds