Lobsterdance Productions
Plus
Joined

Location

Jawjuh
Profile Images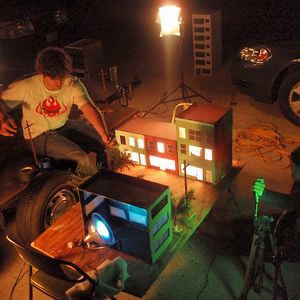 User Bio
Based out of Atlanta, Georgia, Lobsterdance is an independent film production group currently specializing in films that utilize practical special effects work in the style of classic Japanese "tokusatsu" productions. And sometimes other things too. Our style is unique. Our genre is undefinable. Our goal is awesomeness.
Our upcoming releases include:
• "Nivis Ex Machina" - A holiday gathering of close friends erupts into a domestic dispute. Over snow. (Summer 2014)
• "Ultraman Sorta Vs. Godzilla Starring Matt Frank THE MOVIE" - Crossover madness featuring our own Ultraman Sorta, Billy Dubose's Godzilla costume from his much-anticipated "Godzilla: Battle Royale," and artist extraordinaire, Matt Frank! (Summer 2014)
• "ALIZARIN" - A slice-of-life drama that concerns itself with watercolor pigments and assassinations. (TBA)
Related RSS Feeds
Recent Activity
Very great indeed! The miniature work makes it look like it's right out of a kids book, but that's just me.