LadyStarWhereAreU
Joined

Location

Quathiaski Cove, BC Canada
Profile Images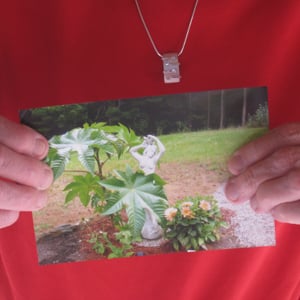 User Bio
I am advocading for Linda, a musician and artist, a disabled senior on low income, and my friend of 40 years. Linda finally moved to the west coast from Kemptville, Ontario in May, 2014 to live on my property in British Columbia, Canada.
The professional movers she hired have treated her in such a despicable manner it brings tears to my eyes.
They need to be held accountable and we need to find Linda's beloved Lady Star statue, which they deny was ever picked up (or any of the other 10+ large items that never arrived!).
It was bad enough the so called professional movers missed SEVEN promised dates over two months with only bothering to call one time to say the truck broke down in Calgary. This turned out to be a outright lie! Each time she called to find out where her belongings were she was given one excuse after the other with a new promised date.
The moving company promised to send me a detailed invoice that I asked for because I checked the one Linda paid and the weight they charged her is 1,350 lbs more than the sub-contacted mover's Bill of Lading (which I had to get from the sub-contracted mover, the moving company never did supply one despite saying on their website one will be provided at delivery). The moving company told me the initial invoice was a mistake and the axel weight had been deducted, but Linda has never received an updated invoice, and a detailed invoice would show exactly what she was charged for. I've yet to see this or the sub-contracted detailed inventory list I was promised.
We didn't even count the large box she packed of all her dry goods that when she opened up was chock-full of filthy stinking mouse droppings with every bag and box plundered by mice... all her food that has to be replaced. This is a woman who has had to go to the Food Bank! Someone needs to tell the owner of that house where her stuff was stored they may have a possible mouse infestation.
The thing is, the only thing which is important to Linda is finding her Lady Star statue.
In order to investigate and a possible court case against this so called professional moving company, I'm asking, on Linda's behalf, and as her Power of Attorney, for your help to bring home Lady Star. Additional funding will go towards replacing the other items Linda is missing, there's a list on our Facebook Page.
If per our fortunate chance this campaign exceeds our lawyer/replacement costs, all funding will go directly to Linda to do as she sees fit.
Goodness knows a very low-income senior with a disability can use a little extra in her pocket. Even if it's just enough to pay off the money to the moving company that would be a thrill for Linda I am certain.
Thank you from the bottom of our hearts, no one deserves to be treated as Linda has by a professional moving company, with total disregard and disrespect... even though they know she is a disabled senior on low income. It's been Elder Abuse in my books.
Oh, and did I mention they were also a day late in picking up on May 1 and never bothered to call her, she had to call and rebook for the next day. She was promised $150.00 for this delay but they refunded her $139.00.
Just. Despicable.
hashtag = #lswau
Lady Star Where Are U GoFundMe Campaign site: gofundme.com/cwqrks
Lady Star Where Are U Facebook Page for more information and to follow our progress, pretty please Like :) The success of our finding Lady Star depends on getting the word out:
facebook.com/lswau
Related RSS Feeds