Matt Peterson
Plus
Joined

Location

New York
Profile Images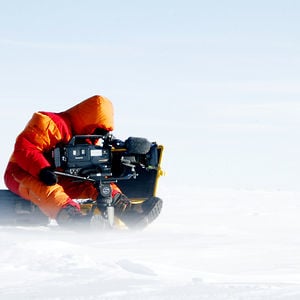 User Bio
Matt Peterson is an Emmy Award-winning Director of Photography, Cinematographer and winner of Australia's top cinematography award, the prestigious Golden Tripod. From the Arri Alexa and Red cameras, to the Phantom, HDSLRs and panning time-lapses, Matt's wealth of experience with creative rigging, car mounts and helicopter rigs make him one of the most sought-after cinematographers in the sports world.
This affable Aussie first got a taste for cinematography after discovering his father's Super 8. Before long he was directing, shooting and co-starring in videos he would submit in lieu of written school assignments. Essays on past wars soon became elaborate backyard affairs of digging trenches, adding pints of blood (a.k.a. ketchup) and an excessive amount of fireworks.
Matt continued to hone his craft and lighting techniques as a Production Camera Operator at a major Australian television network. After a decade at the Seven Network, overseas soon beckoned and he was packing the suitcase and passport for assignments including the ASP World Surf Tour, Dakar Rally (Africa and South America), Tour de France, Olympics (Sydney, Athens, Beijing), Winter Extreme Games and the Ironman World Championships filmed in Hawaii.
Known for his poetic coverage of extreme sports, it was during the 2008 Iditarod Sled Dog Race that Matt experienced firsthand the dangers of such daredevil events. With just two days to go and some 77 miles from the finish line in Nome, his plane hit white out conditions near White Mountain. Without any warning the Cessna crashed at full-force and headfirst into the mountaintop at an altitude of 2300 feet. After a grueling escape, all three on board survived. A year later, Matt returned to Alaska to face his fears and to reconnect with what he loved about an event touted as "the last great race on Earth". It reinforced that life is what you make of it. 2300 Films may be named after the altitude of the crash but has since come to embody Matt's can-do attitude following it.
Crisscrossing the globe filming in some of the most rugged conditions in the world, Matt has managed to capture the spirit and soul of each destination - from the Andes Mountains to the Sahara desert and the dangerous waves of Teahupoo - yet he is equally adept in the studio shooting high-end commercials and look packages, portraits and openers for clients including Gatorade, Puma, Under Armour, Schick, AT&T, NFL, NHL, NBC Sports, ESPN, CBS, Madison Square Garden, and Izod IndyCar.
Away from his 'day job' in the high-end commercial and sports world, Matt collaborates with filmmakers to promote causes that would otherwise not get the attention they deserve. Directed by Dara Kell and Christopher Nizza and set in the slums of Durban, Dear Mandela is Matt's debut feature-length documentary as Director of Photography. Released in the USA in 2012, Dear Mandela has been recognized with a plethora of awards including Bronze for Cinematography in the Australian Cinematography Society State awards, Grand Jury Prize Winner and Best Documentary at the 2012 Brooklyn Film Festival, Best South African Documentary at the 2011 Durban International Film Festival, Golden Butterfly winner at the Movies That Matter Festival, Best Documentary at the 2012 Montreal International Black Film Festival, and Best Documentary Nominee at the Africa Movie Academy Awards. It was described by Variety as "STIRRING, evocatively shot, lucidly edited... deserves wider distribution." Dear Mandela was made possible through support from the Sundance Institute, IFP, NYSCA, BAVC, Chicken & Egg Pictures and NFVF.
Matt is also an accomplished still photographer. His successful debut solo photographic exhibitions snap [NYC] and snap [POSTCARDS] featured his exquisite photos of exotic locations and included stunning portraits of Ringo Starr and Kelly Slater.
Although based in New York, Matt regularly contributes feature stories to the Australian Cinematographers Society (ACS) magazine and he still has an affinity for Crazy Jacks and Roman Candle fireworks.
Related RSS Feeds