May Elias
Joined

Location

Lebanon
Profile Images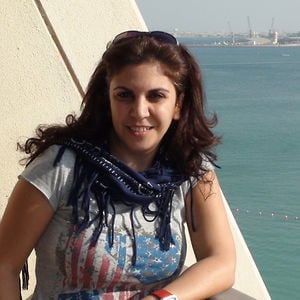 User Bio
May is a prominent journalist and an emerging film maker/ Director... she was born in Baghdad 13 july 1970, and went to Dijla high school for girls or Previously known as St. Tomas School.
After finishing high school successfully, she studied Computer Science, and graduated in 1992 from Saddam University for Engineering and Science (Currently known as Nahrain University).
She Relocated to Jordan in 1993 after the first gulf war, and worked for Arab Technical Group, first as an Administrative assistant, then she moved up the ladder to work as Sales support, preparing sales quotations and drafting heating and cooling projects on AutoCAD- after that she was promoted to be a Showroom Manager, and proven to be smart, ambitious, creative and progressive she was promoted to be the Marketing Manager in the group.
May did a remarkable job and was able to get the Group to be the no.1 in the Jordanian market, killing the competition through aggressive marketing and repositioning campaigns.
And due to her high managerial skills she became the MRQ (Management Representative for Quality) and was responsible of insuring that the Group employees are complying with the ISO standards.
In year 2000 May received an offer from Beta Information Technology based in Dubai, to work for them as a marketing manager, she accepted the offer and moved to work in Dubai.
After September 11 and the crash of IT industry, May left Beta Information Technology, to work for Rotana Music Label, as their UAE marketing and Distribution manager.
There she explored working for TV, as the executive producer of a music show called Mazzika, she co- produced with Ajman TV.
Late 2001 May resigned her position in Rotana and relocated in Toronto –Canada where she studied Film and Television production in the highly acclaimed Toronto Film School. Graduated in 2004.
Meanwhile may ventured into the world of journalism and worked as a reporter and film critic for elaph.com.
In 2005 she moved to Lebanon to peruse her career their as an aspiring Director and a well known Journalist. And she moved up from being a freelance reporter to music editor, then arts & media senior editor.
In 2008 she formed the first podcast department in the Arab world for elaph.com. She also directed her first Music Video in August 2008, titled "Ra2sa Magnona" or "Crazy Dance" for a new talent called Boudy who participated in a talent show called "star w nus" produced by endemol Middle East, and shown on Abu Dhabi TV.
In December 2008 she directed her second Music Video "wahishni Mot" for Lebanese singer Madeline Matar, it was a sound track for a Kuwaiti Movie called "Eldonjwanah".
End of May 2009, she Directed her fist TV Commercial for Elaph.com, featuring celebrities in different domains: TV Presenter tony Khalifa, Singer Madeline Matar, Hair Stylist Joe Raad, and Yumna Shirri TV and Radio Presenter. in July 2010 She Directed "Gharib" Music Video for Clauda Chemali.
In October 2010 she directed another music video for Lebanese Australian young singer Richii, the song is called "Ana Loubnanyoun". In Feb 2011 she directed a music video for KSA singer Ahmad El-Mehdar, the song is called "Yekoun Fi 3elmak". In April 2011 May Directed another music video for Lebanese singer "Iwan" titled "Ashoufak.
In June 2011 she directed another music video for Richii called "Gowa hodny". In January 2012 she directed "Ahl ElGharam" music video for Lebanese singer Madeleine Matar.
May Also worked as TV script writer for many prominent entertainment and social shows during her years of work in Lebanon we name a few: El-Hal bi Idak (New Tv), Sandouk El-donya (Rotana Music), Inta Meen (Abu Dhabi TV), Dod El- Tayyar (Rotana Music), Bidoun Raqaba Seasons 1 & 2 on LBC.
Currently May is still perusing her career as a director,and is writing a script for her first feature film, and she holds the position of chief editor of the Arts section in elaph.com, besides her supervision over the podcast production teams in Lebanon and Egypt.
Now Channel Reportage about me:
facebook.com/video/video.php?v=130250147344#comments
Related RSS Feeds