melina martín
PRO
Joined

Location

europa
Profile Images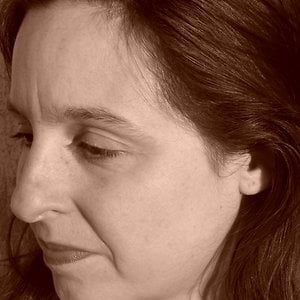 User Bio
Melina Martin
On her role of choreographer she composed many plays: "El Bartolo" (1989), "Las vecinitas de enfrente entregan al oscar" (1995), "El cielo sobre mi" (1999), "Ci" (2000), "Poema 1 y Poema2" about the works of Leonidas Lamborghini (2001), "TRAS" (2003), "Entre"- spontaneous composition- (2004), "ANTE/ DESDE – la herida-" (2005), the latter subsidized by PRODANZA, national body for dance under the Ministry of Culture of the city of Buenos Aires. This same agency also subsidizes the play "D de Deseo", released in 2008, with her company "La Movemos-Danza"
In 2013 she produced and directed the play "Sin Sosten" with the company La Movemos. The play is shown in May in Buenos Aires, Argentina.
Melina Martin has won the award MIVEx Festival for Production in Guanajuato, Mexico, for the production of a dance video that would be the face of the MIVEx Festival in 2010.
She has benefited from the approval of a project for the patronage law in 2010.
She has been elected member of the government organization of the autonomous city of Buenos Aires for the promotion of independent dance (Prodanza).
She is part of LA MOVEMOS-Danza (group for creation and production of Art/Dance), a group she founded and which organizes and produces improvisational works.
For a year she performed with Oscar Civile Que NO se Repita/Musica Semi-Efimera, an interdisciplinary event of composition and production of music and dance.
She participated in the Festival Internacional de Video Danza de Buenos Aires in 2011 with her video "_________________:".
Her work "Ante (La herida)" has been played in Philadelphia on 27/4/2012, and in London (Canada) on 4/5/2012 within the congress "Deleuze and Guattari in the Arts" at Western College Ontario
She served as Co-Director with Gustavo Tarrío in the project Doris Day at IUNA Drama department, and as a choreographer on "The third part of the sea" by Alejandro Tantanian written and directed by Roberto Villanueva.
Pedagogy:
In 1999 she created a training system in Modern Partenaire which she has taught as professor in EDA (Abasto Dance School) and I.U.N.A. (National Institute of Art-movement arts department "Mary Ruanova") where she has taught for years on three different professorships: Partenaire in Modern Dance, Modern Dance Choreographic Composition VII and in the career of Body Language.
Since 2002 she teaches specialized courses in Laban Technique with her own program oriented on choreography composition, at institutes like: Brecha - Dancetherapy school run by Diana Fischman; IUNA (National Institute of Arts); Taller Pata de Ganso, directed by Maria Jose Goldin; Pontifical Catholic University of Lima led by Mirella Carbone; in the national Theatre School of Lima (Ensad); in La Lechuza de Bahia Blanca directed by Claudia London and at the design center in Mendoza city, Argentina.
She teaches Choreographic Composition and Pedagogy applied to the Movement.
Has played a role as teacher for 15 years, teaching classes particularly for the following techniques: Humphrey (from her beginnings as a teacher), Partenaire Contemporary (7 years), Laban Technique and Movement Analysis (for 5 years) and choreography Composition (4 years).
Melina is also a Plastic Artist, in that line she has exhibited and sold her work. Among her most outstanding pieces we can mention "Compartimientos Estancos", which she mounted on three occasions and in different places, "Hacer un Cuerpo" which participated in the event Night of the Museums 2007, organized by the city government of Buenos Aires; during 2008 she has shown her series "Plants" in the bar El Dorinda. Currently she has exhibtions at Art Fair Beatriz Suarez, in Salamanca and Norcenter Gallery Open Arts. In 2010 she made a solo display "Cierto Desierto" at Bar El Dorinda. She attended the workshop of Jorge González Perrin for 8 years, where she started her studies in 2000.
Her development was not only artistic and aesthetic, but also in the field of Health, dedicating herself to educational work for more than five years at the Clinic Day Hospital "Sportivo Winnicott" where she worked with psychotic patients; for 8 years in the internment house for addictions and social pathologies Casa el Sur, led by Lic. Rshaid; in 2007 working with people with mild disabilities at Animarte Taller de Estimulos. She also studied Chinese Medicine.
Training
She began her dance training at the School-Workshop Margarita Bali, then made her entry into the School-Workshop ARMAR Danza, a theatre directed by Silvana Cardell and Silvia Pritz, with whose respective companies she served as dancer, interpreter and Choreographic Assistant.
Se worked at Silvana Cardell's company for 6 years where she held the role of interpreter and choreographic assistant, and with which she travels Argentina, Uruguay and the United States on several occasions.
She danced in the play "El plano de sus piernas y las olas que revientan a sus pies" directed by Maria Jose Goldín, which Prodanza also subsidized. She has also danced works by Silvia also Pritz and Silvina Zsperling
Melina Martin has also studied music, stage direction and set dressing
Related RSS Feeds