Mey Green
Joined

Location

Madrid
Profile Images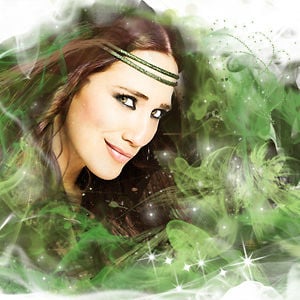 User Bio
Mey Green was born under the sign of Pisces on February 27th; and from that day she has followed her dream. It is said that she has a special talent for music; and her voice can caress heartrending registers with no apparent difficulty.
Creative, determined and tenacious, Mey surprised everybody again with dance music in 2013, when her song "Wanna dance" got to number 1 on the most important radio stations in Spain.
You must have something different when, being just a child, Alejandro Sanz, one of Spain´s most popular musicians, invites you to sing with him in his first major concert at Real Madrid's sports pavilion. It was then that Mey realized that she was born to dedicate her life to music. She is trained in different musical styles, such as Rock, soul or R&B. Throughout her career, Mey has successfully participated in important musical tv programs. Becoming the winner on "Karaoke de Telecinco" gave her the great chance of being part of an album featuring Miguel Ríos, Marta Sánchez, Sergio Dalma, Rocío Jurado y Manolo Escobar, among others. In 2008 she was considered as the best singer of Madrid, after winning "Madrid Superstar"; and several months later, we saw her in "X Factor", where she was one of the finalists.
But she has not just participated in musical contests. Mey has also been part of tv shows such as "Quédate conmigo", "Noche de Fiesta" o "Cruz y Raya"; and recently, she has been collaborating in the successful program "El Hormiguero", (Antena 3 Tv) on several occasions.
After collaborating with important producers, such as Alejandro Asensi or J.C Paz y Puente; and also working as a vocal coach for the great composer and song writer Juan Carlos Calderón, Mey got the starring role in very important musicals in Spain; "We will rock you", "El Diario de Ana Frank", "La vuelta al mundo de Willy Fog" ó "Pretty Woman" are some of the shows where Mey has left her mark.

Since 2012 everything happens very quickly. Mey starts working in her own productions; and meanwhile she is chosen as a part of the Eurovision Contest, supporting Pastora Soler as her backing singer (2012 – Bakú, Azerbaiyán); and she repeated this experience the next year with "El Sueño de Morfeo" (2013 – Malmö, Suecia).
Such a hard work results successful and the same year Mey came to prominence with her song "Wanna Dance", that sounds on the best dance music radio stations; and it also reaches the endurance record in the first place of the chart list of Maxima FM, the premier dance music radio station in Spain.
Since spring 2013, Mey promotes "Wanna Dance" all over the country. In summer, Mey takes part in the music festivals that "40 principales" and "Maxima FM" perform all along the Spanish coast, sharing stage with national singers, such as Wally López, Carlos Jean, José Manuel Duro, J.L García, Dani Moreno "El Gallo", Jose AM, Soraya, Edurne or Auryn.
Brands such as Ron Barceló or Belgrave 1820 have already set in Mey Green as image and voice of their major events over the past year.
In May 2014 Mey returns to Eurovision for the 3rd time, this time with Ruth Lorenzo, winner of "X Factor" in England.
What will be Mey's next step? We just have to wait for the release of their next single, some say that it will be the best version of herself...
External Links
facebook - Página oficial de Mey Green en Facebook.
Related RSS Feeds