Mike Kirkpatrick
Plus
Joined

Location

Nelson - New Zealand
Profile Images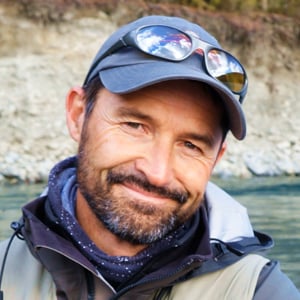 User Bio
I was born in Christchurch (1964) and moved from there to Nelson about 25 years ago to continue my love affair with the 'top of the South' on a permanent basis. As an 18 year old, I used to hop on my first motorbike and head in to the Lewis Pass region (2.5 hours drive) most Friday evenings in summer, camping for the weekend to hunt and fish – sometimes with mates but often by myself. These trips ingrained in me a deep love of the South Islands ruggedly beautiful backcountry, which time has only served to enhance.
The move north to Nelson to set up a small Signwriting business, gave me the opportunity to pick my days off to fish the regions wonderful waters. It was in this period of my life where i gained some clarity on what i wanted to do with my working life – take people fishing! I quickly developed an intimate knowledge of the Nelson, Murchison and West Coast waterways and finally made the transition to Guiding in 1999.
I've been fortunate enough to appear in various overseas and local magazine articles, guided and helped with filming for Denmark's Niels Vestergaard and Morten Oeland while they were filming for the DVD series 'THE FISH AND THE FLY'. I'm also the producer of the very well received 'NEW ZEALAND FLY FISHING ADVENTURES' DVD series, featuring fly fishing waters around the the top of the South region. You can find links to purchase direct from my website.
I have a passion for people and guiding them through amazing adventures that burns as bright now as ever. I listen to what YOU as an angler want, and give gladly any 'coaching' you may want or need in the pursuit of success without losing sight of the fact that this is fun!! I love a laugh and my attitude is always a positive one in the wonderful pursuit of Trout.
Although the local day trips are the 'bread and butter' of my season, I tend to specialize in the 'postcard' type fly fishing. In other words, the sort of trips that will haunt your dreams. The hike in, boat, 4×4 and helicopter type trips with a mind to getting into the sort of country that will make your heart ache when later reminiscing. The places that actually take your breath away. The campfires at night, the fireside chats, the waking to birdsong and the sound of the river with it's softly spoken invitation to explore it's hidden treasures.
External Links
Latitude Guiding - Guided fly fishing for large Brown and Rainbow Trout based in the wonderful Nelson region of New Zealands South Island
Related RSS Feeds