Mirco Palazzi
Plus
Joined
Profile Images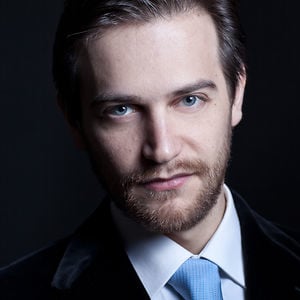 User Bio
Nato a Rimini, inizia giovanissimo lo studio del pianoforte per poi dedicarsi al canto, diplomandosi con lode e menzione d'onore al Conservatorio Rossini di Pesaro, sotto la guida di Robleto Merolla. Ancora studente, vince il 2° premio al Concorso Ferruccio Tagliavini, il 1° premio assoluto al Concorso R. Zandonai, nonché il 1° premio assoluto ed il premio "Circolo Lirico G. Verdi" al Concorso Masini di Reggio Emilia.
Debutta nel ruolo titolo del Don Giovanni di Mozart a Riva del Garda (diretto da Karabtchevsky) e, nel 2001 al Festival di Wexford in Jakobindi Dvoŕak.
Inizia subito una brillantissima carriera che lo porta ad esibirsi a: Bologna, Napoli, Scala di Milano (Stabat Mater diretto da Chailly e Don Giovanni), Regio di Parma, Ravenna,Catania, Montecarlo, Trieste, Genova (Lucia di Lammermoor, con la regia di Vick), Festival di Edimburgo (Zelmira ed Adelaide di Borgogna, incise da Opera Rara), Busseto, Staatsoperdi Stoccarda, Salonicco, Torino, Bari, Roma, Firenze (Petite Messe Solennelle e Il viaggio a Reims), Festival di Spoleto, Ancona, Gewandhaus di Lipsia e Barbican di Londra (Petite Messe di Rossini diretta da Chailly con incisione dvd), Rossini Opera Festival (Otello, Zelmira, Demetrio e Polibio, Ciro in Babilonia, Tancredi, Stabat Mater, Petite Messe), Royal Festival Hall e Drury Lane di Londra (Pia de' Tolomei e Diluvio universale incise da Opera Rara), Venezia, Palermo, Megaron di Atene, Bergamo (Maria Stuarda), Sassari (La pietra del paragone), Avignon, St. Gallen (Il diluvio universale, La Damnation de Faust), Liceu di Barcelona, Washington (Incoronazione di Poppea, Lucia, Linda di Chamounix), Liege (Lucrezia Borgia), Santa Cecilia (Lord Sydney ne Il viaggio a Reims diretto da Nagano), Konzertgebouw di Amsterdam (Guillaume Tell diretto da Olmi e Caterina Cornaro), Dallas Opera (Leporello in Don Giovanni), Koln, Mosca, Wildbad e Parigi (Stabat Mater diretto da Chung), Verona (La gazza ladra), Jesi (Macbeth).
In ambito concertistico ricordiamo inoltre: Requiemdi Mozart a Torino, Genova e Venezia, Stabat Mater di Rossini alla Scala, Parigi, Pesaro; Messa dell'Incoronazione di Mozart diretta da Christopher Hogwood a Bologna e la Messa da Requiem di Verdi in New Messico ed a Liverpool, la Messa di gloria di Puccini con la Regionale Toscana. E' stato più volte ospite nei Recital della Rosenblatt Seriesa Londra a St. John's Smith Square accompagnato da Vincenzo Scalera.
Tra i suoi prossimi impegni: Maria Stuarda a Bilbao e Barcellona, Don Giovanni (Leporello) a Torino, Requiem di Verdi alla Verdi di Milano ed Vlaamse Opera, Demetrio e Polibio al Teatro San Carlo di Napoli, Il Trovatore al Konzertgebouw di Amsterdam, Le nozze di Figaro (Figaro) alla Dallas Opera.
La sua discografia comprende: Petite Messe Sollennelle, Stabat Mater, Demetrio e Polibio, Zelmira, L'esule di Granata, Sofonisba, Adelaide di Borgogna e Il Diluvio Universale (Opera Rara), Lucia di Lammermoor (dvd Raitrade), Jakobin di Dvorak (Fonè) ed un Recital (Bongiovanni).
English
Born in Rimini, he starts studying piano at a very young age, moving then to singing, graduating at Pesaro's Rossini Conservatory under Robleto Merolla. Still a student, he wins the 2nd prize at the Ferruccio Tagliavini competition, the 1st Prize and the "Teatro dell'Opera di Roma" and "Orchestra Sinfonica della Karinzia" prizes at the R. Zandonai competition, as well as the 1st Prize and the "Circolo Lirico G. Verdi" prize at the Gianfranco Masinicompetition inReggio Emilia.
He made his debut in the title role of Mozart's Don Giovanni in Riva del Garda, followed by Dvoŕak's Jakobin at the Wexford Festival. He immediately started an international career which led him to: Bologna (Barbiere di Siviglia, Giulio Cesare), Naples (Tancredi. Trovatore), Parma and Catania (Sonnambula, Bohème), Trieste, Montecarlo, Genova (Lucia di Lammermoor directed by Graham Vick, released on dvd), Edinburgh (Zelmira, Adelaide di Borgogna, both recorded live by Opera Rara), Busseto, Stuttgart, Thessaloniki, Turin and Rome (Semiramide), Florence, Spoleto Ancona (Rossini's Petite Messe Solennelle), Barcelona (Lucia directed by Carsen, Incoronazione di Poppea directed by Alden), Pesaro (Otello, Zelmira, Demetrio e Polibio, Ciro in Babilonia, Tancredi, Stabat Mater and Petite messe), London (Pia de' Tolomei at the Royal Festival Hall, Diluvio universale at Drury Lane), Moscow (Capuleti).
On the concert platform he sang Mozart's Requiemin Turin, Rossini's Stabat Mater in Catania and, under M° Zedda, in Pesaro and Bolzano, Mozart's Kronungmasse conducted byHogwood in Bologna and Verdi's Messa da Requiem in Mexico and Liverpool. He appeared several times in Recital for the Rosenblatt Seriesin London at St. John's Smith Square with Vincent Scalera. Under M° Chailly he made his debuts at La Scala with Rossini's Stabat Mater and appeared at the Gewandhaus in Leipzig and Barbican Centre in London with Rossini's Petite Messe Solennelle.
Among his recent engagements: Diluvio Universale and Damnation de Faust in St. Gallen, Pietra del paragone in Sassari, Maria Stuarda, Lucia and Barbiere in Venice, Lucrezia Borgia (Alfonso) in Liege, Il Viaggio a Reims (Sydney) in Santa Cecilia under Nagano and in Florence, Guillaume Tell and Caterina Cornaro at the Amsterdam Konzertgebouw, Don Giovanni at La Scala and in Dallas, Maria Stuarda in Palermo, Moscow, Bergamo, Rovigo and, with M° Bonynge, at the Megaron in Athens, Il Trovatore in Koln, Lucia in Washington, Linda di Chamounix in Barcelona, La gazza ladra in Verona.
Among his future engagements: Maria Stuarda in Bilbao and at the Liceu in Barcelona, Don Giovanni at Teatro Regio in Turin, Demetrio e Polibio at Teatro San Carlo in Naples, Verdi's Requiem in Antwerp, Il Trovatore at the Amsterdam Konzertgebouw, Le nozze di Figaro at the Dallas Opera.
His discography includes: Zelmira, L'esule di Granata, Sofonisba, Adelaide di Borgogna and Il Diluvio Universale for Opera Rara, Lucia on dvd for Tdk,Dvorak's Jakobin for Fonè, a Recital for Bongiovanni, Petite Messe on dvd for Euroarts.
Related RSS Feeds