Profile Images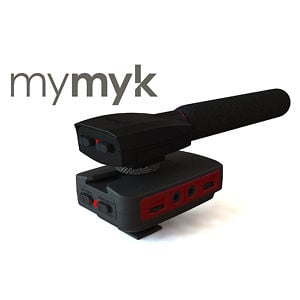 User Bio
MyMyk is dedicated to solving the problems for DLSR and video cameras by providing complete audio solutions.
SmartMyk is a directional microphone which records HD audio. It is complemented by SmartLynk and the MyMyk Camera Audio iPhone App which presents a compact HD audio workstation.
SmartMyk:
- A highly directional HD audio microphone designed for DSLR cameras shooting video
- Rejects background, noise concentrating on the sound where camera is directed
- Features an integrated vibration absorbtion system
- 3 gain amplifier to adjusts to any sound level
- 200 hours of continuous use from one battery (CR2032 button cell)
- Low profile lightweight design
- Fits on camera in most camera bags
SmartLynk:
- Monitor audio when recording - listen via a high output quality headphone amplifier
- Block unwanted noise from your cameras (AGC) Automatic Gain Control
- Two independent microphone inputs with individual gain controls
- Output to camera or separate recording device
- Output to Smart phone - My Myk Recorder Monitor APP
- Output split - send outputs to individual recording devices
- Record true stereo
- Mix input levels of both channels
- Removable cold shoe mount
- Standard camera tripod mount on the base
- Universal cold shoe mount for attaching other devices
MyMyk Camera Audio iPhone App:
- Now available on the iTunes Store
- A complete audio recorder and file organization system for use with SmartMyk and SmartLynk
- VU Meter-Clapperboard-Timecode Transfer files and organize projects
We are able to assist with any of your audio enquiries and wish to enhance your video and audio experience.
Related RSS Feeds