Nick Gaglia
Plus
Joined

Location

LA / NYC
Profile Images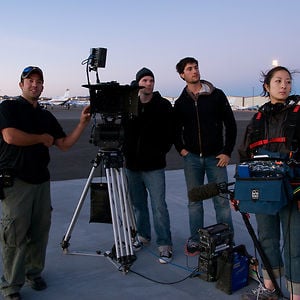 User Bio
After honing his skills with several short films, Nick Gaglia directed his first feature, Over the GW, based on a true story of an abusive, cult-like, drug-rehabilitation center. GW premiered at the 2007 Slamdance Film Festival, where it was the first "under-the-radar" narrative feature in the festival's 13-year history to get a distribution deal after its first screening. Over the GW went on to win critical praise through its nationwide, limited theatrical run:

"…the rehab drama is here to stay." – The New York Times

"Over the GW is an assured first feature by 25-year-old writer-director Nick Gaglia." – New York Post

"Not to be missed!" – Chicago Sun-Times

"…emotionally potent…" – Variety

"Shocking…the film accrues a learned sense of what it feels like to have the very fibers of one's soul placed under a magnifying glass." – Slant Magazine

"Must-See Indy Film" – Huffington Post

Over the GW was also cited in a 2008 congressional hearing on Child Abuse and Deceptive Marketing by Residential Programs for Teens, where it was hailed "an incredible story!"

In 2009, Gaglia released the narrative film Aaron Bacon – inspired by the book Help at Any Cost by Maia Szalavitz. This film is based on the true story of a troubled, 16-year-old boy who dies as a result of physical abuse and starvation in a tough-love, wilderness, drug-treatment facility. Aaron Bacon made its world premiere at the Shanghai International Film Festival, followed by a US theatrical release where Fox News called the movie a "powerful film!"
WOR Radio lauded the movie as, "A powerful, enthralling, and engrossing film with a superb script, direction, and editing by Nick Gaglia, who is on his way to becoming a master of the film medium!"
Over the GW and Aaron Bacon are both available to watch for free on his official website: nickgaglia.com.
In between features, Gaglia directs music videos and commercials, bringing his signature style to short-form work.
Gaglia's activism includes speaking on the topic of treatment abuse of adolescents. He has spoken at venues such as Capitol Hill, Dr. Phil, NYU, Fox News, Real Talk, WOR Radio, Fordham University, and Cal State. In 2013, Gaglia received two humanitarian awards from the Survivors of Institutional Abuse organization in Washington, DC for the work he has done raising awareness through film.

In 2014, Gaglia's latest feature film, which was shot in four countries including France, Italy, Switzerland, and the US, the sci-fi-tinged Altered States of Plaine, will be opening theatrically in the US and Brazil. This award-winning film, which has played at festivals worldwide, is currently airing on TV in over 20 countries.
Gaglia is currently developing two original feature films.
Related RSS Feeds