Ralph Covert
Plus
Joined

Location

Chicago
Profile Images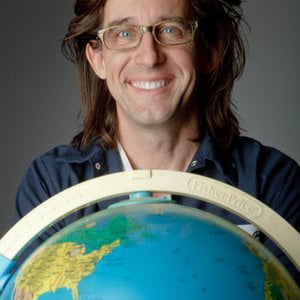 User Bio
Ralph's World is the mega-fun musical planet where kids rock rock rock and dance dance dance to their own and their parents' delight. It's the creation of Ralph Covert: indie rocker, songwriter, playwright, and children's book author. He's taken the same high-energy and super-melodic sense that he developed for his touring pop-rock band to kid's music- basically only the lyrics are changed for the ears of the innocent. His McCartneyesque style (both musically and his sense of charm) has won him hundreds of thousands of three-feet-and-under fans and their parents.
His new compact disc, "All Around Ralph's World," has just been released by Bar/None Records. The are eight other currently-available compact discs of Ralph's World music on Disney Sound (Ralph's World, At the Bottom of the Sea,, Happy Lemons, Peggy's Pie Parlor, The Amazing Adventures of Kid Astro, the Grammy-nominated Green Gorilla, Monster & Me, Disney Sound CD/DVD debut, Welcome To Ralph's World, and 2008's The Rhyming Circus), and the award-winning Say Hello DVD (Parenting Magazine's 2003 Video of the Year). The Chicago-based artist was noted by The New York Times in a front page story of the Arts section thusly: "It is possible that Mr. Covert will turn out to be (the) genre's Elvis Presley, or at the very least its Elvis Costello."
His popularity includes being the only children's music artist ever to sell out a show the fabled Ravinia festival- a feat repeated thrice. He is the first children's artist to headline a coast-to-coast-to-coast tour of the House Of Blues chain. Covert's national media appearances for Ralph's World include NPR's All Things Considered, ABC World News Tonight, The CBS Morning Show, and Sirius XM Kids Radio New Year's Eve broadcast. His praise in print nationally includes Newsweek, Time, The Christian Science Monitor, Time, People and Parade.
Ralph Covert originally came to public attention with his first rock'n'roll band, longtime Midwestern favorites The Bad Examples. Their disc debut, Bad Is Beautiful, was named by Goldmine magazine as one of the "50 essential American power-pop albums of all-time. " They were Chicago's top local original band during in the previous decade while also touring nationwide and in Europe, where the group scored several chart hits. Three studio group albums, two solo projects and an EP, three live albums, and a hits collection, Popscape, are complemented with a "kid-friendly" compendium titled, Good Examples of Bad Examples. The album contains previously-released classics with new recordings, including a "quite clean" version of their signature hit, "Not Dead Yet." That original composition has been recorded by several other artists, most notably Styx and used on HBO's Six Feet Under. The quintet continues to perform in Chicago and elsewhere and will have a new album released in 2010, "Broken E Chord."
Covert never saw his second musical career coming. As Ralph wrote in his most recent Bad Examples album, "the transition from The Bad Examples to Ralph's World would not have been a big leap of the imagination… it took a series of happy accidents to get things started in that direction… " He was already teaching contemporary songwriting at the venerable Old Town School Of Folk Music when he became a father. (His pretty progeny graces the cover of his solo Birthday record and much more recently can be seen in some of his Ralph's World videos.) He was offered and agreed to handle some Wiggleworms toddler sessions on his own terms, i.e., no musical compromises save for the lyrics and with the same energy and style he was already known for. "That was a perfect situation for me as performer and writer- in seconds you'd know if your audience loved the song." The result is a treasure trove of music that parents and their children can equally love.
Musicians helping him in the studio are his Bad Examples comrades and guest artists including harmonica master Corky Siegel, drummer Matt Walker (Smashing Pumpkins, Filter), blues legend Sam Lay, Mars Williams (Liquid Soul, Psychedelic Furs), jazz vocalist Kurt Elling, banjo master Michael Miles, Deb Lader (of Sons Of The Never Wrong), and Grammy-winning polka king Eddie Blazonczyk, Jr. Covert's now-teenaged daughter Fiona has co-written three songs with him, including the title cut to the "Happy Lemons" album and a song on the new album. The regular live Ralph's World band is anchored by Ralph's longtime lead guitarist Tom O'Brien along with Brian Sheridan (of Middle 8) and Michael Alban (late of Jonasay). The touring band's infectious camaraderie adds to the revival atmosphere where thousands of young voices shout along and dance with near-reckless abandon. The RW band members can be seen in some of the music videos shown on Playhouse Disney and on YouTube.com/RalphsWorldVideo. You can also hear the band rip up a great version of "The Mickey Mouse Club March" on the Disney Music Block Party disc.
Besides ruling Ralph's World and trying to be the best Bad Example he can be, Ralph Covert has also won trophies for his adult dramas co-written with G. Riley Mills. Their plays have twice been awarded the Joseph Jefferson Citation (Chicago's Tony Award) for Best New Work (Sawdust and Spangles in 1998 and Streeterville in 2001). Their rock'n'roll circus musical, The Flower Thieves, first produced by The Midnight Circus, has been staged four times. Covert & Mills' first children's musical, A Nutcracker Christmas, (the classic E.T.A. Hoffman story updated to the Xbox age), is now a perennial produced by Chicago's Emerald City Theatre who have also presented the pair's musical version of "Hansel & Gretel." Ralph also contributed new songs for a staged version of Roald Dahl's James And The Giant Peach. The duo also adapted Eleanor Estes' "The Hundred Dresses" earning rave reviews for the premiere production by Chicago Children's Theatre at the Royal George in 2010.
Covert has four books out including the non-fiction "Sawdust And Spangles: The Fantastic Life of W.C. Coup," illustrated by Giselle Potter; "Ralph's World Rocks!," a collection of lyrics of brought to life by Charise Harper; "A Nutty Nutcracker Christmas," with drawings by Wilson Swain (based on the play); and "Me And My Animal Friends" with art by Laurie Keller who also created the booklet for "All Around Ralph's World."
He has also composed specifically for dance ("To Sleep, To Dream" for the Hedwig Dances troupe) and was commissioned to provide the soundtrack for an exhibit at The Shedd Aquarium in Chicago. His songwriting and vocals have been used in several independent films here and in Europe, most notably the acclaimed Dutch feature De Jurk ("The Dress") for which he received Holland's equivalent of an Oscar ™ for his original song "The Black Rose of Texas." His Ralph's World tune "Just Like The Monkeys" was used for a pre-eminent retailer's back-to-school campaign and he created a song, "The Box Of Fun," for Kellogg's. In 2010 he revamped Huggies' Pull-Ups song "Do The Potty Dance" and seemingly made it into a hit with a television commercial sung in both English and Spanish.
He is involved with Playing For Keeps/Operation Spark and the education initiatives of NARAS, the Grammy organization.
While it has been a while since he's tread the boards or been captured on film as a dramatic actor, his Ralph's World seems big enough to include all the colors of his many talents.
More information is available at ralphsworld.com on his children's music and at waterdogmusic.com for his grown-up rock.
Related RSS Feeds