Sexto Sonar
Joined

Location

Venezuela
Profile Images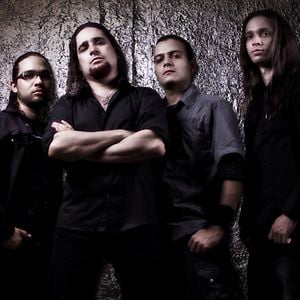 User Bio
Sexto Sonar was born at the end of 2004 in Maracay (Aragua State, Venezuela), framed within the progressive and experimental rock, but with the strength, feeling and the aggression of heavy
metal. Today the band is: JOAD MANUEL JIMÉNEZ (VOCALS) SANTIAGO RODRIGUEZ (Guitars), HECTOR RIVAS (BASS), YEFFRY MARVAL (keyboards).
In July 2008, SEXTO SONAR enter in to the "Saeztudio" a recording studio in the city of Caracas (owned by famous drummer Eduardo Sáez), to make their debut album called "ENFRENTANDO LA REALIDAD" ("Facing Reality.")
The album has 7 tracks and almost 60 minutes of music, it was catalogued by the critics even before his arrival on the market as an unprecedented work in the history of metal in Venezuela, along with a strong promotional campaign which included the singles "VISIONES" and "SOLEDAD OCULTA", a promotional trailer and a documentary video (rockumentary) of 20 minutes long (produced by Carlos Ruiz de Iluxion Productions). The impact on national and international level was amazing and the band becomes a mandatory reference for the Rock movement in Venezuela.
"ENFRENTANDO LA REALIDAD" was officially launched at the festival "METAL EN LA OPERA" in June 2009, at the Teatro de la Opera of Maracay (a legendary theater from Aragua State), this event redefined the concept of festivals and metal concerts in Venezuela with a full house, sold out two hours before starting the event and 300 people without access to the site due to lack of tickets.
After that show and due to the performance of the band,, SEXTO SONAR established like one of the most important Rock bands in Venezuela, beginning a national tour called "ENFRENTANDO EL TOUR" ("FACING THE TOUR"), which was supported by launching the first official video of the quintet, the theme chosen was "Visions" (produced again by Carlos "El Senor" Ruiz de Iluxion Productions), achieving the record of more than 1000 visits (on youtube.com) in less than 72 hours for a video of a rock band in Venezuela.
"ENFRENTANDO EL TOUR 2009" took SEXTO SONAR to perform 3 shows in the neighboring country of Colombia in the cities of Bucaramanga and Medellín, finally closing the festival "Atolon FEST" in his hometown of Maracay.
The 2010 brings the end of a cycle of great professional pride SEXTO SONAR with the release of a video called "OLVIDANDO EL AYER" , like a tribute to their families, friends, and fans, and begins a renovation process, on musical and image level.
These days, SEXTO SONAR is in pre production of their third video titled "LUCES Y ESPADAS" (a song against bullfighting) and a DVD recorded completely live during his performance in the METAL EN LA OPERA 2009, all in conjunction with the planning of a new national 2010 tour , taking the best and strongest progressive metal to every corner of Venezuela and the world.
...and the history goes on...
Related RSS Feeds
Recent Activity
Sexto Sonar does not have any activity yet.