Alan Baker
Joined

Location

Woodstock ga
Profile Images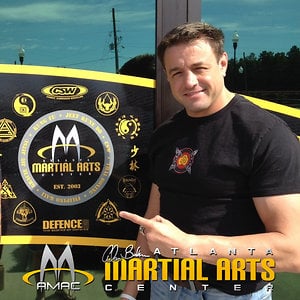 User Bio
Sifu Alan Baker is an internationally recognized martial arts & self defense expert. He has been training continually in the Martial Arts since 1981 and teaching since 1990. In 1999 he was inducted into the WHFSC International Martial Arts Hall of Fame. In August of 2007 Mr. Baker was awarded the rank of 7th Degree Black Belt by the International Martial Arts Headfounders Grandmasters Council. He has also been recognized for developing the Warriors Path Physical Fitness Program and has appeared in several national magazine articles.
Mr. Baker is an official member of the prestigious International Defense Lab Top Team and is a Defense Lab ambassador to the United States. In the course of his career he has attained the level of black belt or higher in multiple disciplines of martial arts as well as multiple instructor level certifications in additional systems under some of the industry's most renowned leaders such as Guro Dan Inosanto, Master Pedro Sauer, Sifu Francis Fong, Sensei Erik Paulson, Ajarn Chai Sirisute, Ajarn Greg Nelson, Tuhon Tim Waid, Grand Tuhon Leo T. Gaje, Jr, Andy Norman, Professor James Cravens, Master Bob Byrd, Saya Mike Jolley, Sifu Steve Grantham, Guro Don Garon, Grandmaster Dana Miller, and Sifu Paul Vunak.
In the tactical training field he has taught countermeasures and defensive tactics, firearm and edged weapon programs through his AMAC Tactical Training Group to fortune 50 corporate security teams and law enforcement / SWAT teams all around the United States from the Marietta SWAT team here in Georgia to the Cincinnati SWAT team just to name a few. He has the honor to work with and design training programs for various Department of Defense, CIA and specialized government and military groups.
Related RSS Feeds
Recent Activity
Alan Baker

tagged

martial arts self defense acworth woodstock towne lake ga canton marietta ga sandy springs

with

Gracie

,

jiu-jitsu

,

martial

,

arts

,

self defense

,

woodstock ga

,

towne lake ga

,

marietta ga

,

kick boxing

,

kids martial arts

,

Jeet Kune Do

,

Thai boxing

,

canton ga

,

karate

,

kali

,

bjj

,

JKD

and

Brazilian Jiu-Jitsu