Agrupación Señor Serrano
Plus
Joined

Location

Barcelona, Spain
Profile Images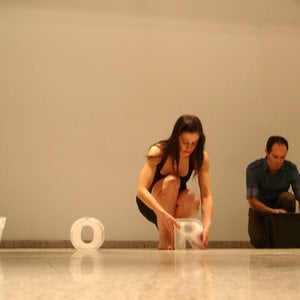 User Bio
Curriculum Agrupación Señor Serrano
Agrupación Señor Serrano is a performing arts company that reckons on innovation in all its productions. In its works, dancing, visual theater, video means and interactive tools are mixed regularly, gathered around dramaturgies created through experimentation, research and the mixture of languages. The Agrupación Señor Serrano his based in Barcelona, although its shows are regularly programmed in theatres and festivals across Spain, southern France and northern Italy and media coverage of their work is everyday more extensive in all these places.
2011 Katastrophe Festival TILT, Perpignan
2010 Memo. Festival TNT (Terrassa Noves Tendències).
2009 Immut 12.09 Adriantic Barcelona.
2008 Contra.Natura 11.08 Estruch Sabadell / Teatre Escorxador Lleida.
Artefacto 06.08 Festival PNRM Olot.
2007 Europa (Autopsia 3rd part): Work In Progress 07.07 Grec Festival BCN / 12.07 Temporada Alta Festival Girona.
2006 Mil Tristes Tigres (Autopsia 2nd part), Work In Progress 10.06 PNRM Festival Olot / 11.07 Neo Festival Barcelona.
Autopsia Part 1 03.06 Naumón, La fura dels Baus.
Àlex Serrano Tarragó has got a degree in Industrial Design by the ESDI and another one in Theater Direction by the Institut del Teatre (Barcelona). In 1998 established Tangent Audiovisual, a supplier company of audiovisual and multimedia contents. From the structure of that company and in order to fulfill his artistic interests, in 2002 he created Areatangent, a contemporary creation platform that launched many projects, initiatives and personalities in different artistic areas. In 2006, he took some decissions -leaving the company and giving independence to Areatangent- to establish the Agrupación Señor Serrano, a versatile creative structure that allows him to face multidisciplinary projects. In parallel, Àlex Serrano has collaborated with significant Spaniard artists like the theatre director Àlex Rigola (videoscene creation for his show Nixon/Frost, 2009), the rock band Standstill (videoscene creation for the Adelante Bonaparte tour, 2010) and with the dancer and choreographer Sebastián García Ferro (Back, 2008, and Nada, 2009).

Pau Palacios Pozuelo has a degree in Sociology. When he finishes his studies he starts working as an executive producer and road manager in the structure of the Teatre Lliure in Barcelona until 2005. That year he moves to Lisbon where he develops an audiovisual project that has as a result an introspective video art piece and a documentary short film that were shown in many national and international festivals around the world (Loop-Barcelona, Zinebi-Bilbao, Docudays-Beirut, Videoformes-Clermont Ferrand). In 2006 he moves to the italian Tirol following his love. From there he develops his role of dramatist of the Agrupación Señor Serrano's creations. He's the author of the novel furioso reloj la vida.
Martí Sánchez Fibla is a Doctor in Artificial Intelligence (Post-Doc in Biocomputering at the INRA in Tolouse). Nowadays he works as a researcher in the SPECS Centre of the Universitat Pompeu Fabra in Barcelona. From the beginnings of his scientific career, he has developed personal artistic projects. This way, he has created some multimedia works, individually or in collaboration with Konic Thtr, Ricardo Iglesias or Gerald Kogler among others. In Barcelona, his works have been seen at the Sonar Electronic Music Festival, at Metronom Gallery and at the Mercat de les Flors. Abroad, his creations have visited Toulouse, Karlsruhe and Erlangen. Since 2006 he is an important piece of all the Agrupación Señor Serrano's works.
Diego Anido Alonso starts his formation as a performer in Santiago de Compostela, where he presents some of his earlier works at Sala Nasa. He lives in Barcelona since 2004. Nowadays he works for the Rara Avis dance company (Andrés Corchero and Rosa Muñoz) with whom he has participated in San Vito (2007) and Present Vulnerable (2009). Since 2006 he collaborates with the Agrupación Señor Serrano participating with a main role in Europa, Contra.Natura, Artefacte and MEMO. He has also worked with Jordi Oriol and Silvia Delagneau (Prometeu no res, 2009) among other modern Barcelonan directors. His one man shows include Cascuda (2008), El alemán (2007), and Paperboy (2005).
Barbara Bloin has a DEA in Performing Arts with a distinction on Theatre from the University of Besancon (2005) and another in Performing Arts at the Autonomous University of Barcelona (2008). In 2000 he founded a theatre group for children in Besançon. In 2003 he moved to Barcelona for further studies and has since enrolled in the University where she is currently studying for a PhD in Arts. In September 2005 she joined the Institut del Teatre (Barcelona's Theatre Academy) in the category of acting. In 2007, after several years of collaborating with Ricard Salvat at the AIET, she began working with the Agrupación Señor Serrano as a executive producer and assistant director.
Related RSS Feeds