Profile Images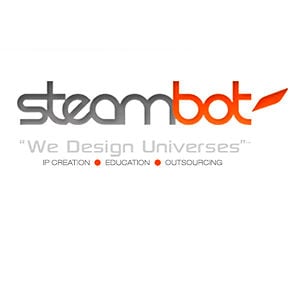 User Bio
WE DESIGN UNIVERSES!
SHARE, LEARN, INSPIRE
Steambot studios (Montreal, CAN, Los Angeles, CA and Austin, TX) is a visual development studios creating world class visual content for international clients in the feature film, videogame, advertising, broadcast, graphic novel and publishing industries. We also produce our own content through films, comic books and animation projects.

The Steambot artists come from a variety of backgrounds including: traditional art, illustration, industrial design, 3D & 2D animation, architecture, photography and modeling. They combine their experience, inspiration, diverse backgrounds and a strong creative team to bring a unique perspective to your project. We have the ability to compose, and structure ideas into a visually successful result due to the expertise acquired through many years of working on many complex projects. This knowledge has allowed Steambot to rise prominently within the industry.

Steambot counts Electronic Arts, Disney, OddLot, ScottFree, UbiSoft, Eidos, Dreamworks and BlueSky as clients and have contributed visual content for high profile entertainment properties including Prometheus, TRON Legacy, Avatar's videogame, Assassin Creed, Thief 4, Deux Ex III, Prince of Persia, Splinter Cell, Far Cry 2, Turok Evolution, The Red Star, Top Spin, Naruto ROAN, Myst 4, Skyland…

The studios recently launched their first original intellectual property – Exodyssey: Visual Development of an Epic Adventure which is now available in major bookstores and online at leboxshop.com.
Related RSS Feeds