Sylvia Fuller
Joined

Location

Long Beach, CA
Profile Images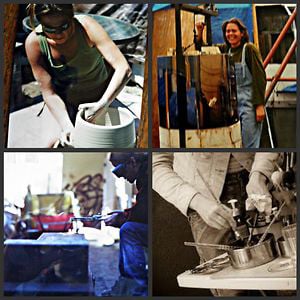 User Bio
*Member of the American Watercolor Society
*Member of the International Watercolor Society
*Active participant in (WOAC) Work of Art Contest
*Member of (WAC) World Artist Contest (see below)
*Trained by Yolette Serna and Vero in Natural Cotton
Plasters; Venetian Plaster; and Marmarino
*Workshops in watercolors and wheel throwing (see list
at end of page)
Everything is a potential medium and each medium draws out a different part of me.
My father, a film editor for Disney, Paramount, and finally Universal,
has had a strong influence in my work through the music he played daily.
My mother was a housewife, stay-at-home mommy, and
artist. Her work had an influence in my life too. Her
medium was watercolors and embroidery.
I worked with watercolors and charcoals most of my youth.
I have come to enjoy working with many mediums, each
medium pulling a different emotion from me.
All that I have mastered and learned has been
through independent study, workshops, and very talented
creative friends.
Collaborating is great at times but as I have gotten older I have
come to cherish my quiet time in the studio.
I have had the privilege to be mentored in skills such as
wheel throwing, glass blowing, welding, Raku, lime/marble
based plasters, paper clay sculptures, and much more.
I am currently incorporating aged slaked lime/marble based
plasters my work.
**Watercolor workshops and mentored by:
Johannes Vloothuis
Lian Quan Zhen
Elizabeth Tyler
Mika Törönen
**Wheel throwing workshops and lessons:
Daniel Soderstrom=Techniques in throwing off the
hump
Joe Christensen=Throwing Large vessels
****WAC-The World Artists Contest is an effort to
promote both known and unknown works of all
mediums and styles to a global audience. The
end result will be gathering a group of amazing
artists for The Malpais International Art Show
held annually in May of each year with the first
annual show in May of 2012.
Related RSS Feeds