symbion project
Joined

Location

lunar base 11
Profile Images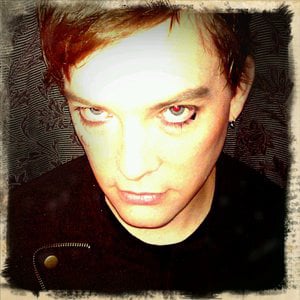 User Bio
For the last 20 years, Symbion project has been electronic music endeavor of Kasson Crooker. During that time, he founded the synthpop band Freezepop (freezepop.com), was a member of the electronic rock trio Splashdown, wrote a bunch of music for videogames (FreQuency, Amplitude, Rockband, DDR), did a one-off retrosynth project called Larkspur, and is currently in the electropop band The Planets Won't Let You Sleep Tonight with 3VE_T3A (facebook.com/theplanetswontletyousleeptonight). The sound of Symbion Project is dark and haunting downtempo and features a large collection of vintage analog synthesizers. Symbion Project is very inspired by the artists Massive Attack, Depeche Mode, Wendy Carlos, Vangelis, Air, and Erik Satie.
The first full length Symbion Project cd "Red" came out in 1997 followed by "Immortal Game" with artwork by Stoltze Design. Not being one to be pinned down stylistically, Symbion Project has continued to embed differing styles of electronic music into its overall aesthetic. Early songs incorporated elements of instrumental techno & trance, along with spastik drum & bass programming. Songs on "Immortal Game" slowed dramatically into hypnotic down-tempo, reminiscent of boards of canada & dj shadow, with haunting synths & vangelis-esque ambient soundscapes. "Immortal Game" also features guest vocalists Melissa R Kaplan of Splashdown/Universal Hall Pass & Leah Callahan, alongside the instrumentals. "Wound Up by God or the Devil," was released in early 2007 and was the first foray into a different sound for the band. Inspired by the baroque qualities of vintage synth artist Wendy Carlos (A Clockwork Orange, Tron) and Vangelis (Bladerunner), the Wound Up album became the first in a trilogy of instrumental analog synthesizer releases.
2009 saw the release of the 4th studio album "Misery in Soliloquy" which was released on cd in stereo and on dvd in a quad 4channel surround sound format. This album returned to the downtempo sounds of Immortal Game and heavily featured Melissa R Kaplan and Kasson on vocals along with strings arranged and performed by Simon Swarbrick. A followup version cd called "Misery in Soliloquy [Exposed]" has just been released and features the entire album mixed without vocals or drums, allowing the synths, strings, and ambient fx to shine. The most recent release is "Contrapasso" which is a followup to the Wound Up album. This album features a cover of the Dead Can Dance song "Enigma of the Absolute."
Symbion Project official website :: symbionproject.com/
Symbion Project on Facebook :: facebook.com/symbionproject
Symbion Project on Soundcloud :: soundcloud.com/symbionproject
Symbion Project CD are sold here :: speedofdark.bigcartel.com/artist/symbion-project
Related RSS Feeds