TEN/27 (Trevy Is Famous!)
Joined
Profile Images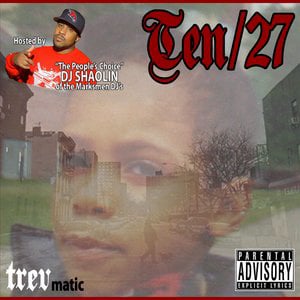 User Bio
TEN/27 [Ten Twenty-Seven] aka Trevy Is Famous is from Johnstown, Pennsylvania. His stage name comes from his date of birth. Ten/27 is a solo hip hop artist on 56 & Runnin' Ent.
Ten has been rapping since the age of 13. In his early teens Ten would record his music on tapes and would play and distribute his music among his friends. Ten performed in numerous talent shows at his high school and outside of school events. After graduating high school Ten, left his city to escape the temptation of dealing drugs with his peers. He attended Job Corps which led to him enrolling in West Virginia State University fall of 2002. While in college he joined forces with other inspiring artists who formed a group called Liquid Thiq. The group released a cd [Liquid Transportation] which earned them regional success in West Virginia and southern Ohio. Ten along with Liquid Thiq performed countless times at their school and charity events. They also opened up for one hit wonder "Brooke Valentine". A year later the group disbanded due to creative difference.
Spring 2006 Ten left school, because he was preparing to be a father to twin girls. That summer Ten reunited with his former childhood group Dark Session, immediately he felt the need to release a solo project before releasing a group project. August 2006 Ten released his first solo mixtape "Trev City, Pa. Vol 1." His song "Johnstown Tribute, brought tears to the eyes of listeners. That song solidified him has a local favorite. After riding the success of his solo effort, Ten and his group [Dark Session] released "The Dollar Movement" 2007. The cd was only the e.p. of an album to come, sadly the group split up shortly after. The song "H.A.D." which is short for homeless, addict and disease, gained them a lot of attention and the spotlight. That particular song was supposed to be the key to the
door, but Ten never followed through.
In 2008 Ten released "Trevy Is Famous" which featured hits such as "Fatty Atty" for the club and "I'm So Sorry", which he apologizes to the fans for enduring all the wackness that's been coming out. While performing at a conference in Pittsburgh with three former Dark Session members, they caught the attention of music consultant Lady Purple who invited them to Atlantic Records to meet Senior Vice President of A&R Jean Nelson. Jean heard the material and loved it, but yet refuse to sign them, stating "Your music is ten times better than I expected, but I don't hear a hit single". After being rejected from Atlantic Records, Ten fell into a brief depression, after seeing and hearing wack artists get signed one after another, and for him to be turned down for being lyrically nice was a hard pill to swallow. December 2008, Ten formed an alliance with a local group Y.N.O.G. to form a label called "56 & Runnin' Ent." along with Melaqua.
They started recording a compilation mixtape "The 814 Request Line", which consist of all local artists in their city [Johnstown].
January 2009, The 814 Request Line was complete, and was released the same night Ten/27 and others performed with Wiz Khalifa in front of a sold out crowd in Johnstown,Pa.
Early 2010 Ten/27 and his label mates released the "Starvin Belly" mixtape which was hosted by AZ. On there, Ten/27 did a song with former Wu Tang affiliate Shyheim and his artist Castro of Bottom Up Records. The mixtape sold out quickly within a matter of days; eventually uploaded on datpiff.com as a free download to reach a broader audience. Spring of 2010 Ten/27 done several shows with AZ and Cormega down in Florida. In June, Ten/27 performed with Mobb Deep [Havoc], Big Noyd, Termanology, Lil Fame of M.O.P. and Boston legend Krumb Snatcha. Ten, recently completed the highly anticipated "Trev Matic" mixtape hosted by [The People's Choice] DJ Shaolin of the Marksmen DJs.
Related RSS Feeds
Recent Activity
TEN/27 (Trevy Is Famous!) does not have any activity yet.