The Summoned
Joined

Location

Boston, MA
Profile Images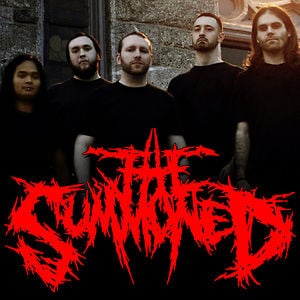 User Bio
Known for their intensity in both their music and live shows Boston based experimental death metal band The Summoned are being considered as fore-runners in the New England metal scene. They've been referred to such bands as Between The Buried and Me, The Faceless, The Red Chord, and Black Dahlia Murder but that doesn't stop them from experimenting with their sound but maintaining the intensity they're most known for. With Steve Thompson on Vocals, Jake Kelleher and Shaun Murphy on Guitars, Joe Zahareais on Bass, and Sam Hang on Drums The Summoned believes they have collectively brought out all their separate influences to create their own vision of experimental death metal.
Formed in the winter of 2007 in a span of just four years The Summoned has completed two east coast tours, played shows in fifteen states, released an EP, and has had the honor of opening for national acts such as The Faceless, Dying Fetus, Beneath The Massacre, Ion Dissonance, Arsonists Get All The Girls, Through The Eyes of the Dead, Carnifex, Suffokate, Overkill, Vader and more.
Gearing up for their highly anticipated full length "If Only Minds Could Paint Pictures" to be released summer of 2011 The Summoned truly believe this is their best work to date. Vocalist Steve Thompson proclaims "We wanted to truly create an album that is just unrelenting, an album that needs to be listened to from start to finish as opposed to song by song. We wanted to truly capture the feeling of our intense live shows and include it in "If Only Minds Could Paint Pictures" and we believe we've achieved that in this album."
With two east cost tours, an EP release, endorsements, opening for national acts, radio air play and an upcoming full length under their belt The Summoned has proven that their hard work with song writing and live shows strikes a nerve. Praised by their peers and highly acclaimed responses from fan, The Summoned have no intentions of slowing down and maintaining their status of fore-runners in the New England metal scene.
Related RSS Feeds