Toni Dove
Plus
Joined

Location

New York City
Profile Images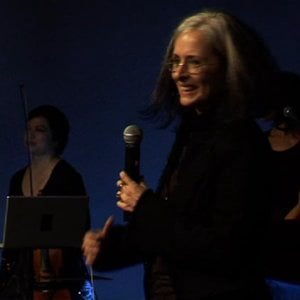 User Bio
Considered one of the pioneers of interactive cinema, New York-based artist Toni Dove creates hybrid performance, installation and screen-based art that fuses film, game or instrument based interaction, and experimental theater. In her work, performers interact with an unfolding narrative, using interface technologies such as motion sensing, iPad and laser harp to inhabit and animate on-screen avatars.
Spectropia, is a feature length live-mix movie performance for two players. It previewed as a work in progress at Lincoln Center in Scanners, the New York Video Festival 2006, in Cleveland at the Ingenuity festival 2007, and premiered at the Wexner Center for the Arts Nov 1-3, 2007, showed at REDCAT, LA Nov 2007 and at the Zero1 Festival of Art on the Edge, San Jose, 2008, EMPAC, 2008, the Kitchen, NYC, 2010, Roulette NYC 2012. A DVD ROM, Sally or the Bubble Burst, an interactive scene from the Spectropia project, is distributed on the Cycling '74 label and was released in 2003. A 10 episode version is about to be released online.
Lucid Possession combines musicians, VJ mashing, and stage-controlled robotic projection screens to present a contemporary ghost story – a poetic musing on managing the mass of information "noise." Dove and her co-performers—mezzo-soprano Hai-Ting Chinn and violinist and technologist Todd Reynolds—draw the audience into a world in which video characters come to life, where the wave of a hand moves a video body and video characters lip synch to a live singer. Using a groundbreaking motion-sensing system created by Dove and artist and software designer R. Luke DuBois, the onstage performers collectively perform a movie, which then spills off the dynamic, dimensional screens and onto the stage. With staging co-directed by Ridge Theater's Bob McGrath and songs by Elliot Sharp, the result is a complex three-dimensional, automated video pop-up book where characters are brought to life through motion, voice, and robotics.
Related RSS Feeds