Trunk Junk Magazine
Joined
Profile Images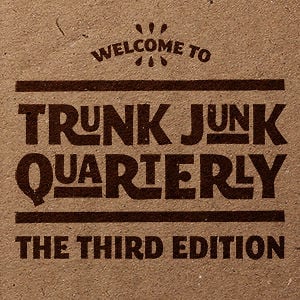 User Bio
WHAT IS TRUNK JUNK? A BIRD? A PLANE?
Nope, it's just a magazine. Hmm, maybe a little more than a magazine actually...
In the view of Trunk Junk; whether we skate, surf or snowboard, we do it with our own best creative intentions. So, henceforth, we seek to advance our physical creativity by supplementing our own identification as creative individuals. Therefore we splash art and design into our fascinations, and obsessively document this through photography and film.
In this same obsessive manner, Trunk Junk was born out of the passion to document the up and coming, as well as established talents from the industries of surf, skate, snow, art, design, photography, film and music. Hence fourth we can proudly present you with an amalgamation of these favoured cultures; a visual representation, which encapsulates a long-term, deep-seated, love affair.
At the end of the day, Trunk Junk is a 120 page book that we put together every so often, purely on the idea of celebrating our favourite hobbies, showcasing some of the worlds most talented and inspiring artists and boarder riders.
Enjoy.
Related RSS Feeds