Michele De Angelis
Joined

Location

Italy, Makedonia
Profile Images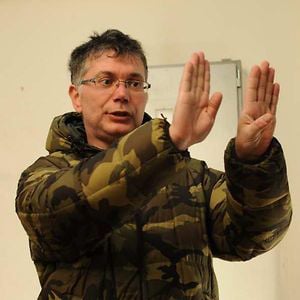 User Bio
Michele was always fascinated by moving images and started collecting 8mm and Super 8mm films on a regular basis from the age of seven. At the age of 17 he began collecting 35 mm theatrical prints of all his beloved films in earnest, whilst attending a screenwriting class taught by some of Italy's grand masters of cinema like Nanny Loy, Suso Cecchi
D'amico, and Luigi Filippo D'Amico. Under their tutelage, Michele learnt the art of writing for both the big and the small screen.
After graduation from Law School, the chance of a lifetime was given to him at the age of 22, when infamous director Andrew White asked him to be assistant director on the rarely seen Italian slasher epic Massacre. Working on a film set was a dream come true for the young film enthusiast, and that first experience as an assistant led to years of working in movies, TV shows, commercials and documentaries as a first assistant director, production manager, executive producer and screenwriter for the likes of Lucio Fulci (his beloved master), Bernardino Zapponi, Ruggero Deodato, Rolando Stefanelli, Michele Placido, Bud Spencer, Dario Argento, Lamberto Bava and many, many, others.
His encyclopedic knowledge of films and filmmaking has seen him been called upon to collaborate with international film festivals like Sitges, Fantafestival, Malaga, Toronto, and Edinburgh. After his post graduated studies in Visual Arts at UCLA, he also ran an art house theatre for two years in which he screened the rarities, restored prints and the long lost gems he was always "digging out" of dusty film vaults. Michele has also written articles for X Files Magazine, Hustler, Tank Magazine, Psycho, and Video Impulse.
In 1999 he launched the independent video label Pulp Video. The label soon gathered a reputation for innovation and quality with its faultless video and DVD releases of long forgotten rarities and bona fide film classics.
Pulp Video was also one of the first companies to embrace the digital revolution and spearhead the DVD boom in the Italian market.
Whilst busily releasing films, De Angelis was also working as a consultant and executive producer, producing DVD featurettes and documentaries for American companies like Universal Pictures Home Video, Anchor Bay Entertainment, Blue Underground and more.
In the following years his work in documentary and making ofs, led him to International recognition when his documentary In The Jungle: The Making Of Cannibal Holocaust was sold to US, France, Japan, Spain, UK, Germany and many other countries of the world. The documentary reconstructed the making of the mentioned cult classic featuring rediscovered on set footage, never seen before. Another achievement was the production of The Gofathers Of Mondo in which maverick filmamkers Jacopetti and Prosperi spoke for the first time on camera about the creation of the Mondo genre that shook the world.
In 2001 Michele left Pulp Video and joined Alan Young Pictures as associate partner. At Alan Young Pictures he was responsible for the creation of a video and DVD label dedicated, once again, to high quality DVD releases of Italian and American classics. During his tenure Alan Young Pictures, with twin company Planet Pictures, also financed and developed such high profile projects like Lars Von Trier's Dogville, starring Nicole Kidman, Alex De La Iglesia's La Comunidad and El Crimen Ferpecto, and Vincente Aranda's Juana La Loca and Carmen, and Von Trier again with Manderlay. He also served AYP as legal consultant for Zack Snyder's remake of Dawn of the dead. And served as script reader for high profile Italian companies like Dania Film, Immagine & Cinema and Surf Film, for those he closed deals with New Line Cinema and many other companies. Deals that under his suggestions brought to distribution movies like Willard, Academy Award winner Monster, One Point 0, and many others.
In 2004 he secured private investment to found an exciting new distribution and production outfit: Noshame films.
NoShame Films was an ambitious international company that in just over a year already earned a reputation for quality and attention to detail second to none with the release of a series of classics and genre gems on highly praised collectors editions DVDs both in America and Italy. The US market saw for the first time uncut restored versions of Boccaccio 70, Yesterday, Today and Tomorrow, Story Of A Love Affair. With the likes of Fellini and Antonioni, NoShame released restored versions of cult Sergio Martino's films like The Strange Vice of Mrs. Wardh and many others giallos and horror from Italy.
In 2006 Michele was voted amongst the ten best North American distributor by prestigious New York Times (best vault raider) and by elite cinema magazine Premiere. Followed by enthusiastic reviews from all over the world.
On the production front, Noshame Films was responsible for co-financing Tamara, from Final Destination's creator Jeffrey Rednick, Plague, and Dark Places, starring Lelee Sobieski. NoShame Films handled distribution of these titles in Italy. NoShame also handled theatrical distribution of such acclaimed films like Stander starring Thomas Jane, Sundance winner November with Courtney Cox and critically acclaimed Asylum with Natasha Richardson and Ian MacKellen.
In spring 2005, Noshame films created, jointly with Medusa Home Entertainment and General Video, the DVD label Orizzonti, which released edgy and multi award winning movies from all around the world including Takashi Miike's Gozu, David Anspaugh's The Game of Their Lives, Andreas Marshall's Tears Of Kali.
At the end of 2008 at the beginning of the decline of video market, Michele left Noshame films that ceased operations soon after. He took the first steps towards fully fledged movie production, securing the rights to Graham Masterton's best-selling novel Ritual, to be adapted for the screen and directed by acclaimed director Mariano Baino.
In 2011 Michele set up a new company, Kinoglazorama International, to produce and distribute movies and shorts, creating a digital platform that will include a Web Television.
In 2012 he shot his first narrative film, the short Doors and he'll start pre production on his feature film the Art Sci-Fi project Utter – A symphony of time.
Related RSS Feeds