George O Stadnik
Plus
Joined

Location

New York City
Profile Images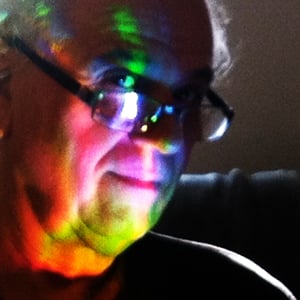 User Bio
George O. Stadnik, Lumia Artist

Curiosity, experimentation, discovery, imagination and discipline transform optics and time into golden moments of perception.

Digital Lumia
George's compositions transform perceptions of time and space to induce moments of self-awareness.
Using optical simulation algorithms and software, George constructs optical machines inside a computer. The virtual components are moved in 3D space over time resulting in a visual sequence of transformations in color, refraction, reflection and shadow. The motion sequence is tested with key frames. Then the composition is rendered as thousands of individual images for playback as SD or BluRay video.
Digital Lumia are also available as archival Giclee prints.
Inspiration
George's original inspiration was experiencing Thomas Wilfred's "Lumia Suite," Opus 158, 1963/64, a silent Lumia Composition at the Museum of Modern Art in New York City, in October of 1968.

Thomas Wilfred [1889 - 1968] was the 20th Century artist who invented the art form of Lumia. Wilfred performed his compositions in live recitals throughout the United States and Europe from the early 1920s into the 1930s. He later developed instruments that "played" or "manifested" individual compositions; approximately 18 of these are extant.

Wilfred's compositions were silent. They were intended to be experienced as visual compositions, independent of music. There were no narratives. Although abstract, Wilfred's pieces could evoke fantastic landscapes, futuristic cities, elegant gardens or the most primal human emotions.

History
George's formal art education includes a BFA in Experimental Studios from Syracuse University in 1972. From 1976 through 1984, he created Lumiagraphstm in Worcester, Massachusetts. The studio, at 100 Grove Street, housed a self-constructed 10' x 12' x 8' light-tight room - a camera obscura. There, he created abstract visual compositions using discarded industrial optics such as dichroic glass, lenses, diffraction gratings, early holograms and optical liquids. A variety of light sources were used. Tungsten, halogen, laser, sunlight and moonlight captured the images directly onto film. These tools were used to manipulate light and time to create singular and multiple prints on large sheets of CibaChrome™ film. Exhibited in Boston, New York and London in the 1970's and 1980's; today Lumiagraphs™ can be found in private collections worldwide.
George created video and multi-media performances. In 1976 - he created "Primordial Soup" on the Paik Abbe Video Synthesizer at WGBH New Television Workshop.
1978 - solo Lumiagraph™ exhibition at the Terrain Gallery, NYC. 1976 - Founding member of the Grove Street Gallery. Between 1974 and 1984, as a member of Kasner Gooch, he produced and performed in Ozone, the Galactic Arcade, Looking In, XOX, Time To Time, Sonic Bloom and two New York Avant Garde Festivals.
1980 - Invented and patented the Photon Guitar. 1985 – Blind Buddha Dreams, Denver Colorado; 1986 – Lumia for Firebird with orchestra, Littleton, Colorado; 2000 - George begins working with optical simulation software to create Digital Lumia for DVD.
2005 – Art Tech Expo, Sprinkler Factory, Worcester; 2008-Terrain Gallery reunion exhibition, NYC; 2009 - exhibited glasses free, 3D Lumia composition at SVA Theater 23rd St., NYC; 2010 - live photon guitar performances at Pianos and Diapason Gallery, NYC; George's work is available directly or through Prints and Potter, Worcester; Terrain Gallery, NYC and Center For Visual Music, Los Angeles.
For more information about the Art of Lumia - contact: stadnik@erols.com or visit: photonlightguitars.com
Related RSS Feeds